The number of Deputy Prime Ministers should be raised from three to five and the number of ministries reduced by four, Prime Minister Nguyen Tan Dung proposed to the National Assembly on Monday.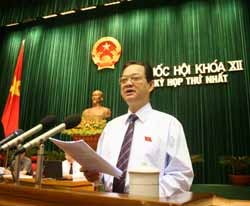 PM Nguyen Tan Dung speaks at the 12th National Asembly session on July 31 (Photo: TNO)

The portfolios of the new Deputy PMs would be the economy for one of them and social and cultural affairs for the other.

The current Deputy PMs are permanent Deputy Prime Minister Nguyen Sinh Hung, Foreign Minister Pham Gia Khiem, and Truong Vinh Trong, who doubles as the deputy chief of the Central Anti-Corruption Steering Committee.

To reduce the number of ministries and agencies from 26 to 22, PM Dung suggested making the Ministry of Fisheries part of the Ministry of Agriculture and Rural Development, and combining Industry and Trade to form a Ministry of Industry and Trade.

The Physical Training and Sports Committee and the General Administration of Tourism could join the Ministry of Culture and Information to form the Ministry of Culture, Sports and Tourism.

PM Dung suggested disbanding the Committee on Population, Family and Children and parceling its functions out among the relevant ministries.

Also proposed was to set up a Ministry of Information and Communications by merging the Ministry of Post and Telematics and the media and publication sections of the Ministry of Culture and Information.

The Ministry of Natural Resources and Environment could be given the additional responsibility of managing the country's marine resources, and renamed the Ministry of Natural Resources, Environment and Sea, the PM said.

If all his proposals are accepted, the 12th-tenure government will have 28 members.

PM Dung "made it clear that the aim of the proposed changes was to gear the Government mechanisms into a unified and modern system with a perfect structure".

The newly streamlined Government, he said, would have to fulfill its role as the top State administrative agency and perform all State-entrusted duties from economics, politics, and social and cultural affairs to national defense, security and external relations.

After hearing the opinions of National Assembly deputies, the NA's Legal Committee gave the PM's proposals its full support.

On behalf of the committee, chairman Nguyen Van Thuan asked the Government to clarify the responsibilities and duties of ministries and ministerial-level agencies, especially in areas where there is overlapping State management.

The PM's proposed changes will be discussed by the NA deputies in groups this afternoon before being officially approved.