Prime Minister Nguyen Tan Dung has approved the establishment of an Assessment Council to assess all national target programmes on rural development and sustainable poverty reduction for the period of 2016-20.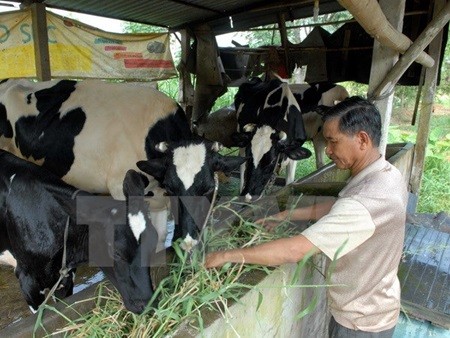 Many households have escaped poverty thanks to loans from poverty reduction funds. — VNA/VNS Photo Manh Linh
The council will be responsible for organising the assessment of investment plans for various programmes and submitting them to the Prime Minister for consideration and to the National Assembly for approval. Its tasks will also include organising the feasibility studies of various programmes and submitting their reports to the Prime Minister for consideration.
The council will have the authority to ask organisations or units preparing investment plans to provide relevant documents and information on various programmes to serve the assessment process. If necessary, the council can also ask organisations or units to complete their documents to meet assessment demands and consider and make decisions on assessment plans and other related issues during the process.
Minister of Planning and Investment Bui Quang Vinh and deputy Minister of Planning and Investment Nguyen Van Trung will be the council's chairman and deputy chairman, respectively.
The members of the council will comprise the heads of the Ministry of Finance, Ministry of Justice, Ministry of Industry and Trade, Transport Ministry, Health Ministry, as well as the Ministry of Culture, Sports and Tourism, Ministry of Defence, Ministry of Information and Communications, Ministry of Public Security, and Ministry of Natural Resources and Environment.
The Ministry of Planning and Investment will be a permanent body in the council.