Prime Minister Nguyen Tan Dung has approved an irrigation project plan for the central region to be implemented from 2012-2020 at a total cost of VND140,770 billion (US$6.76 billion), which will greatly assist in coping with climate change and rising sea levels.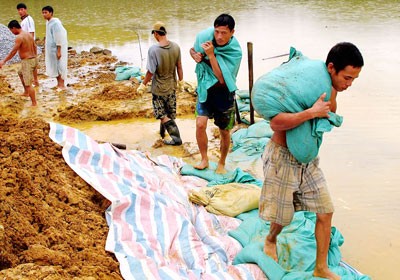 Residents fortify a downgraded reservoir in Ha Tinh Province (Photo: SGGP)
The project will cover across 12 provinces in the central region from Thanh Hoa to Khanh Hoa, over a total area of 84,700 square kilometers and affect a population of 18 million people.
According to the project plan, the Government will focus on upgrading and repairing small and medium irrigation reservoirs, build larger irrigation works to provide water for farm irrigation as well as to industrial zones.
The river and sea dyke systems will be fortified to prevent flooding in urban and residential areas. Afforestation will be propagated along coastal and upper reaches of river areas.
Total cost of the project plan is estimated at VND140,770 billion (US$6.76 billion) which will be drawn from the central and local budgets, Government bonds, Official Development Assistance Fund and Climate Change Programs.