The Prime Minister has approved a national action programme on gender equality that will promote awareness in schools, businesses and industrial parks during the 2016-2020 period.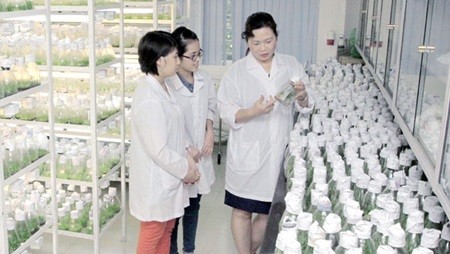 Ha Thi Thuy (right), deputy head of the National Key Laboratory for Plant Cell Biotechnology, teaches her students at the laboratory. The prime minister approved a programme to enhance women's engagement in ministries and various career fields. (Photo: VNA/VNS)
Men and boys are encouraged to take part in communication campaigns to eliminate gender imparity.
In addition, the "action month for promoting gender equality and preventing gender-based violence" is carried out annually from November 15 to December 15, with a focus on promoting awareness and honouring active individuals and organisations.
The programme also aims to enhance the capacity of elected female officials, National Assembly female deputies and female leaders from central grassroots levels in order to support policies related to the training, planning and appointment of female officials.
Ministries, sectors, localities and organisations are encouraged to establish programs to increase women's engagement and promote gender equality in areas in which gender inequality is prevalent.
Gender inequality
At a two-day conference on gender equality among ethnic minority in Viet Nam in HCM City yesterday, Vu Phuong Ly, a programme specialist at the UN's Entity for Gender Equality and Empowerment of Women Development, said policies aimed at ethnic minority areas should take into account the importance of gender issues, particularly the incidence of early marriages and marriages between cousins.
"This is one of the important ways to create stable development in ethnic minority areas," Ly said.
She said that in recent years implementation of gender issues in Viet Nam had been successful, but women, including ethnic minorities, continued to face difficulties accessing education, health care, basic social welfare and higher salaries.
Ly said the rate of ethnic minority people who marry early was still high.
Nguyen Thi Mai Hoa, head of the Religion and Ethnic Minority Affairs Division of the Viet Nam Women's Union's central committee, said that ethnic minority women and girls remained vulnerable and faced problems accessing state policies and benefiting from development achievements.
As for legislative representation, two of four deputy chairpersons, and 24.4 per cent of members, of the National Assembly are female.
One of the deputy chairpersons is from an ethnic minority group, Hoa said.
However, the rate of participation at people's committees in ethnic minority areas remains low, at 10.9 per cent-11.32 per cent.
Hoa said the rate at people's councils in districts and communes, 6-7 per cent, was lower than the country's average.
In government agencies and offices, however, the rate of female ethnic minorities in leadership and management positions has increased.
The low rates had hindered the success of the government's development policies, according to Hoa.
Hoang Xuan Luong, deputy head of the Central Committee for Ethnic Minority Affairs, said the academic level was also low in these areas.
Outdated customs in the communities persist, as well as gender preconceptions, including the belief that men are more important than women.
This mindset has prevented the implementation of national targets on gender equality in these areas, Luong said.
There are more than 12 million ethnic minority people living in 56 out of 63 provinces and cities.
Between 2011 and 2015, counselling and assistance services on gender equality, marriage and family, as well as domestic violence prevention, were provided in 30 mountainous communes and towns for ethnic minorities.
Awareness about the importance of gender equality has improved, according to a report issued by the Central Committee for Ethnic Minority Affairs.
The localities have seen a decreasing number of domestic violence cases and early marriages, the report said.