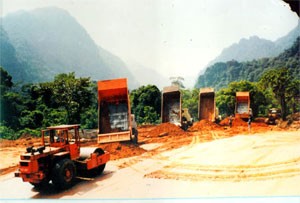 Building the northern section of the Ho Chi Minh Highway
The Prime Minister has reviewed and approved the progress of the Ho Chi Minh Highway project.
When finished, the 3,167 km two-lane road will pass through 30 provinces and cities.
The project's first stage, which began in 2000 and should be completed this year, covers the section from Ha Tay Province near Ha Noi to Kon Tum in the Central Highlands.
The rest of the highway from Cao Bang in the far north to Ca Mau at Viet Nam's southern tip is scheduled to be finished by 2010.
After that the next ten years will be spent upgrading and widening the highway along its entire length.