Prime Minister Nguyen Tan Dung has approved the equitization project of the national flag carrier Vietnam Airlines (VNA).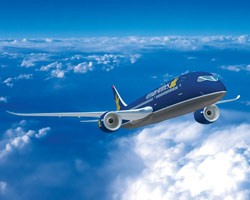 A Vietnam Airlines aircraft
According to the project, state capital part at VNA will remain unchanged. The company will issue more shares to raise its chartered capital. At present, its chartered capital totals VND14,102 billion (US$666 million).
 
Initial public offering (IPO) will have 1.41 billion shares with nominal value of VND10,000 each. Of these, the state will hold 1.06 billion shares accounting for 75 percent chartered capital. Over 282 million shares will be sold to strategic investors accounting for 20 percent chartered capital.
 
More than 49 million shares will be auctioned, as planned, nearly 21 million will be sold at preferential prices to VNA employees and 705,092 will come to the company's trade union.

The Prime Minister has authorized the Ministry of Transport to decide the starting price in the share auction, and choose an intermediary financial institute and a stock exchange to conduct the share sales.
 
The ministry will instruct the company to implement the plan of selling shares to the public. When it is time, VNA stocks will be posted in the stock market.
 
The Ministry of Transport is representative of the state capital owner at VNA. At the time of announcing the company value, VNA had 10,180 employees. They all will continue working at the joint stock company.