Prime Minister Nguyen Tan Dung arrived in Kuala Lumpur, Malaysia, on April 26 to attend the 26 th ASEAN Summit held in both Kuala Lumpur and Langkawi cities.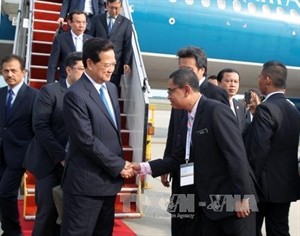 PM Dung arrived in Malaysia on April 26- photo: VNA
He was welcomed at the airport by Malaysia's Deputy Defence Minister Datuk Abdul Rahim Bakri, Vietnamese Ambassador to Malaysia Pham Cao Phong, and others.
Themed "Our People, Our Community, Our Vision", the Summit, from April 26-27, focuses on how to promote links among ASEAN member nations.
The plenary session is to debate measures towards forming an ASEAN Community in 2015 and building the ASEAN Community's Post-2015 Vision.
Vietnam's participation in the event is expected to boost ASEAN connectivity, strengthen solidarity and unity, thus making the group's operation more effective and pushing the role of the bloc in ensuring peace, security, cooperation and development in the region.