Prime Minister Nguyen Tan Dung asked a Russian agency responsible for nuclear supervision to help Vietnam build a system of regulatory documents on nuclear safety as the country has decided to build its first nuclear power plant.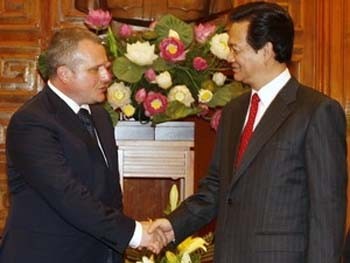 Prime Minister Nguyen Tan Dung (R) welcomes Nikolay Georgievich Kutin in Hanoi on June 17 (Photo: SGGP)
The PM made the request at his reception for Nikolay Georgievich Kutin, Chairman of the Russian Federal Service for Environmental, Technological and Nuclear Supervision (Rostekhnadzor) in Hanoi on June 17.
Vietnam has approved a plan to build its first nuclear power plant and expects to put it into operation in 2020," PM Dung said, noting that cooperation in the field will reflect the two countries' trust and strategic cooperation.
He also stressed that safety and technologies always play an extremely important role decisive to the success of a nuclear power programme. Therefore, legal regulations must be in place before building an atomic power facility to ensure security and safety for the plant, Dung said
The PM asked the Rostekhnadzor to help train Vietnamese technicians so they are able to run the country's first nuclear power plant in absolute safety.
He hailed the cooperation between the Rostekhnadzor and the Nuclear and Radiation Safety and Supervision Department of the Ministry of Science and Technology and emphasized the fact that Vietnam and Russia have an established traditional tie.
The Government leader affirmed that Vietnam always bears in mind the effective assistance the former Soviet Union and current Russia has provided and that Vietnam will do its utmost to develop its bilateral ties with Russia true to their agreed long-term and sustainable partnership to bring practical benefit to both in the coming time.
Nikolay Kutin said Russia is experienced in building nuclear power plants in full compliance with international requirements on nuclear security and safety and is willing to share with Vietnam its experiences in the field.
He also emphasized that the construction course of a nuclear power facility should be inspected thoroughly, laying special stress on the transfer of nuclear safety know-how.
The Russian official affirmed that the Rostekhnadzor will help Vietnam train experts and make legal documents before the country starts the construction of its first nuclear power plant.