Prime Minister Nguyen Tan Dung has asked ministries and relevant agencies to boost production, monitor prices and stabilize the market to ensure that people enjoy a happy and joyful Tet (Lunar New Year).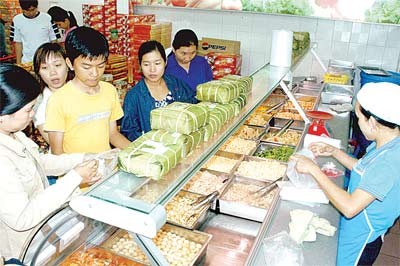 People shop for Tet at a supermarket in Ho Chi Minh City (Photo: SGGP)
The PM made the request at a regular monthly cabinet meeting in Hanoi last week.
 
He reminded many localities to take special care of social policy beneficiaries and poor families to help them enjoy the festive season.
 
He ordered the Health Ministry to take measures to manage product quality control and maintain food hygiene and take preventive measures against the spread of disease during the holiday season.
 
The Ministry of Public Security was asked to secure law and order and prevent traffic jams throughout this period.
 
PM Dung asked ministries and related agencies to check investment projects and speed up projects funded by State fund and Government bonds, especially in the power and infrastructure area.
 
He ordered the State Bank of Vietnam to take measures to lower interest rates, keep foreign exchange rates stable and ensure a sufficient amount of hard currency for import of fuel and essential materials to fuel local production and consumption.
 
The Finance Ministry was asked to introduce measures to monitor prices, especially that of power, coal and fuel.
 
The ministry was also ordered to adopt measures to reduce the State overspending.
 
Discussing the country's socio-economic performance in January, the cabinet members agreed that the government's resolution on stabilizing prices and promoting production had been implemented widely.
 
During the first month of the year, industrial production registered a growth rate of 16.1 percent.
Exports rose to 8.1 percent, higher than the 10 percent rate set by the National Assembly, making the trade deficit level lower than December, 2010.
January also saw a surge in the number of foreign tourists, retail sales and service revenues.
Farming production, though affected by prolonged cold spells and water shortages, remained stable while the market and inflation remained under control.
In the month, the consumer price index rose by 1.74 percent, lower than the two previous months.