Prime Minister Nguyen Tan Dung directed ministries, agencies and localities to do all they can to ensure a warm, happy and safe New Year holiday for the people, at the regular Cabinet's meeting in Hanoi on January 25.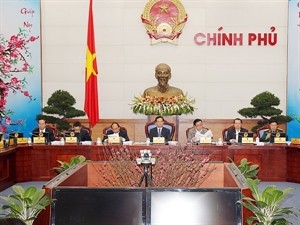 Prime Minister Nguyen Tan Dung presides over the meeting (Source: VNA)
First and foremost, sufficient supply of essential goods must be ensured while keeping control of product qualities and food safety, he said.
As the traffic will get busier during the long holiday which lasts from January 28 to February 5, PM Dung asked the transport sector to pay heed to traffic safety.
He also requested the Ministry of Labour, War Invalids and Social Affairs (MoLISA) and localities to pay attention to the poor, the elderly, families of war heroes and victims of natural disasters.
The Ministry of Industry and Trade reported that there are abundant supplies of essential goods for Tet, while 33 localities nationwide have stocked up goods worth 1.5 trillion VND (71.4 million USD) that are up for sale in nearly 10,000 areas at stable prices.
The Ministries of Public Security and Transport have put in place plans to guarantee that travelling is made convenient and safe, and to maintain political security and social order.
Relevant units across the country have stepped up inspection of food quality and disease prevention while gearing up for music performances for the festive celebrations.
At the same time, the Prime Minister commended ministries and local governments for the positive socio-economic progress in January.
The consumer price index during the month was up 0.69 percent, the lowest for the period over the past five years.
The index of industrial production rose by 3 percent on an annual basis, while nearly 6,900 new firms were set up with start-up capital of over 43.7 trillion VND (2 billion USD), a yearly increase of 27.7 and 79.5 percent in quantity and value, respectively.
However, total exports hit 10.3 billion USD, down 10.8 percent year-on-year.