Prime Minister Nguyen Tan Dung on Wednesday asked state inspectors to finish their jobs on severe corruption cases.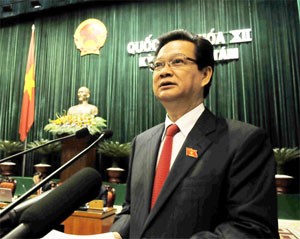 (File) Prime Minister Nguyen Tan Dung
Mr. Dung said at the meeting that corruption fight during the first six months of this year have gained positive results, yet saying that agencies have to speed up their jobs and enhance forces on areas where corruption easily appears.
The PM was speaking at a Hanoi meeting to review corruption fights during the first half of this year and plan jobs for the second half.
Officials from the Government Inspectorate as of the end of June have carried out 25 inspections at several state-owned firms and corporates, projects of big investment and the interest support at several commercial banks.
Half of the inspections have finished, discovering wrongdoings concerning nearly VND2 trillion (US$97.13 million) and more than 1,430 hectares of land, the inspectors said at the meeting.
Inspectors from cities and provinces also carried out more than 4,000 inspections of their own during the period, finishing more than half and discovering economic wrondoings concerning nearly VND1.2 trillion and 540 hectares of land.
Among the local cases, 11 and 23 involved people have been transferred to criminal investigators, according to information heard at the meeting.
The inspections have helped press charges against 184 people in 100 cases for corruption behaviors, which is 5 percent more cases and 3 percent of people involved than the same period last year.
Judges and prosecutors are working on 13 severe corruption cases noted by the government leaders.
The meeting also heard reports from the Ministry of Police over ten months of investigations into wrongdoings at Vietnamese state-owned shipbuilder Vinashin, which has racked up debts totaling VND86 trillion by June 2010.
The Prime Minister said the case of Vinashin needs strict punishments on the right people responsible.
He said agencies should not make a big fuss about the case now and yet end up doing next to nothing to people involved.