Prime Minister Nguyễn Xuân Phúc attended the Việt Nam-Japan high-level economic policy dialogue yesterday, right after his arrival in Nagoya City, in Japan's Aichi Prefecture.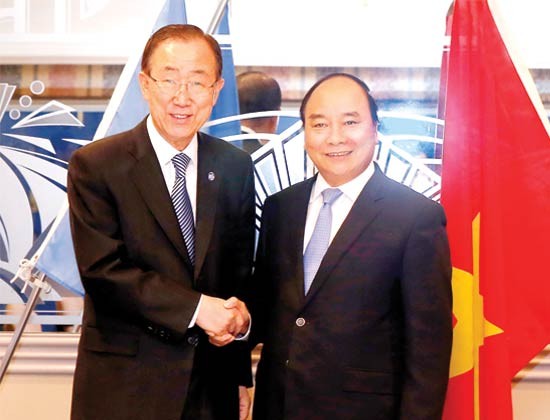 Prime Minister Nguyễn Xuân Phúc meets UN Secretary General Ban Ki-moon (Photo: VNA/VNS)
Addressing the dialogue, themed "Việt Nam's integration and development," a representative from the Japanese Ministry of Economy, Trade and Industry affirmed Việt Nam as an important partner of Japan, which has been proven through the regular exchange of high-ranking delegations.
About 1,500 Japanese businesses are operating in Việt Nam, the official said, adding that the two countries' approval of the Trans-Pacific Partnership (TPP) agreement will help expand bilateral co-operation in coming years.
The Japanese side expressed hope for closer ties with Việt Nam, particularly in areas of strength for Japan like garments and textiles, energy, personnel training, and education.
Japan is ready to assist Vietnamese businesses in joining post-TPP global value chains. The country is keen to enhance collaboration with the Southeast Asian nation in infrastructure development, education and training.
At the dialogue, representatives of Japanese firms and economic organisations called on the Vietnamese Government and local authorities to step up administrative reform and facilitate the operation of Japanese businesses in the country.
In his remarks, Prime Minister Phúc said Việt Nam and Japan share a lot of similarities.
The "Extensive Strategic Partnership for Peace and Prosperity in Asia" between Việt Nam and Japan is experiencing the most fruitful period ever, since the two countries established diplomatic ties, he said.
Japan is Việt Nam's largest official development assistance (ODA) provider, contributing to the country's infrastructure development, the leader said, citing the construction of Nhật Tân Bridge in Hà Nội as the latest example of the assistance provided.
Japan is also Việt Nam's second largest investor with more than 3,000 projects with a total registered capital of over US$39 billion and the country's fourth largest trade partner, the PM added.
Briefing the Japanese side on the socio-economic achievements of Việt Nam in recent times, the PM said that despite an array of difficulties and challenges, the country has still maintained its economic growth of nearly 6.7 per cent, the highest level since 2011. Việt Nam was one of the fastest-growing emerging markets in 2015, he noted.
The nation boasts a large population of 92 million with a per capita gross domestic product (GDP) of over $2,100 and a rapidly growing and stable purchasing power in Asia, he said.
He went on to say that Việt Nam is among countries in the region with the highest level of political stability. The Southeast Asian country has signed 13 free trade agreements (FTA), including the Trans-Pacific Partnership (TPP) to which Việt Nam and Japan are members.
In the near future, Việt Nam will have free trade relations with 55 global partners, encompassing all the seven G7 members, and 15 out of the 20 members of the G20 group.
The PM underlined Việt Nam's resolve to build a transparent government to serve people and enterprises. The country is exerting every effort to improve the business climate and is striving to lead ASEAN nations in the field.
Việt Nam will focus on reforming its institutions, increasing productivity and competitiveness, and restructuring the economy. A number of State-owned businesses will be equitised and join the stock market in the next three years, offering a brilliant opportunity for foreign investors – especially those from Japan – to engage in investment and become strategic shareholders, he said.
Particularly, Việt Nam will push ahead with administrative reform and create a favourable business environment, he said, adding that the country aims to reach the average standards of ASEAN-4 on tax, customs, social insurance, granting construction and land licenses, and power access in 2017.
In that spirit, PM Phúc encouraged Japanese businesses to invest in six key areas under the Việt Nam-Japan industrialisation development co-operation framework, including agro-fishery processing; electronics; automobiles and auto parts; agricultural machinery; the environmental industry and energy conservation; and shipbuilding.
He also called on Japanese investors to pump money into infrastructure development projects, public-private partnerships (PPP), high-quality services, and engagement in the equitisation of Vietnamese State-owned businesses.
He also suggested sharing experience in start-up projects and developing the component supplying industry of small- and medium-sized enterprises.
According to the Vietnamese leader, the two countries are capable of raising bilateral trade to $60 billion by 2020.
Việt Nam welcomes Japan's opening of its market for Vietnamese fruits such as mango, lychee and dragon fruit, and hopes more made-in-Việt Nam seafood, consumer goods, electricals and spare parts could enter the Japanese market.
In return, Việt Nam is willing to import high-quality products and technology from Japan, the PM said.
He concluded that the success of foreign investors is also the success of Việt Nam, reiterating that the Vietnamese Government will create a favourable and equal environment for overseas enterprises, including those from Japan.
Sideline meetings
Prime Minister Nguyễn Xuân Phúc met with Sri Lankan President Maithripala Sirisena on the same day on the sidelines of the expanded Group of Seven (G7) Summit in Mie Prefecture, Japan.
The PM said Việt Nam is willing to share experience and boost technical co-operation with Sri Lanka in agriculture, and suggested the two countries' Sub-Committees for Commercial Co-operation seek ways to lift two-way trade, particularly in fields in need of priority investment such as oil and gas.
He thanked Sri Lanka for supporting Việt Nam's bid for seats at the United Nations agencies and hoped that the country will back Việt Nam's candidate for the post of UNESCO General Director for 2017-2021.
The Vietnamese leader asked Sri Lanka to support ASEAN and Việt Nam's stance on the settlement of the East Sea issue by peaceful means in line with international law.
Sri Lankan President Sirisena wished to learn from Việt Nam's development experience via exchanges at all levels. He informed the PM that a delegation of businesses led by the Sri Lankan PM will visit Việt Nam in the near future.
Meeting the United Nations Secretary General Ban Ki-moon, PM Phúc affirmed that Việt Nam is committed to the UN's efforts to build a world of peace and sustainable development, including its peacekeeping missions.
He also informed the UN chief about Việt Nam's ongoing plans to implement the Paris Agreement adopted at the 21st Conference of the Parties to the UN Framework Convention on Climate Change, and the 2030 Agenda for Sustainable Development.
Ban Ki-moon pledged to help Việt Nam enhance its role in UN peacekeeping missions and hoped that female Vietnamese officers will be deployed on missions in the future.
Expressing his sympathy with Việt Nam's difficulties caused by drought and climate change, he said special envoys in charge of drought alleviation have been sent to various countries to provide necessary assistance.
On the East Sea issue, the UN Secretary General reiterated his consistent stance on supporting the peaceful settlement of disputes in line with international law, including the 1982 UN Convention on the Law of the Sea.
He hoped that ASEAN and China would fully and effectively realise the Declaration on the Conduct of Parties in the East Sea, towards formulating a Code of Conduct in the East Sea.
During a reception for Secretary General of the Organisation for Economic Cooperation and Development (OECD) Angel Gurria, the PM asked for further assistance for Việt Nam in several areas such as improving the efficiency of using official development assistance, fine-tuning investment policy, the environment, green growth and climate change response, sustainable agriculture and workforce development.
Gurria vowed to assist Việt Nam in training a contingent of high-quality workers and in successfully performing its role as APEC Chair in 2017.
Receiving the Managing Director of the International Monetary Fund (IMF) Christine Lagarde, the PM hoped for the IMF's continued support and policy consultation in macro-economic stabilisation and economic reform in Việt Nam.
Both sides agreed to intensify joint work in developing a green growth model, sustainable growth and renewable energy.
On the same day, PM Phúc met Governor of Aichi Prefecture Hideaki Omura and assured him that the Vietnamese Government will continue refining laws and creating all possible support for investors, including those from Japan.