Prime Minister Nguyen Xuan Phuc attended Dong Da festival in Hanoi on February 1(the fifth day of the Lunar New Year), which marked the 228th anniversary of Ngoc Hoi – Dong Da victory over the Chinese Qing invaders.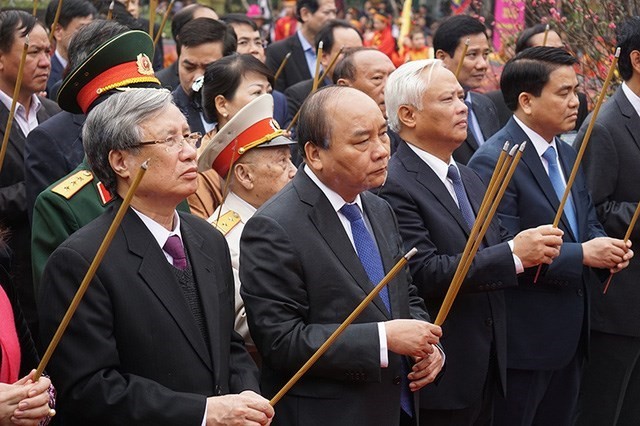 (Photo: VNA)
Before the opening ceremony, the delegates and people offered incenses and laid wreath in tribute to Emperor Quang Trung (also known as national hero Nguyen Hue), who led the victorious battle.
Nguyen Song Hao, Chairman of the People's Committee of Dong Da district, recalled that on this day 228 years ago, Tay Son troops led by Nguyen Hue launched a surprise attack and defeated 290,000 Qing soldiers right at the park, liberating the Thang Long imperial city.
Since then, the fifth day of the lunar first month has become the traditional day marking the historic victory, he said.
The Ngoc Hoi – Dong Da victory has also gone down in Vietnamese history as an immortal and epic struggle for national construction and defence, Hao added.
Dong Da Mound reportedly witnessed fierce battles between Emperor Quang Trung's soldiers and the Chinese invaders 228 years ago.
The festival is designed to uphold the country's cultural values, while educating young generations about the tradition of patriotism and national pride.
The festival also included a procession, and dragon dancing, art performances, and traditional games.