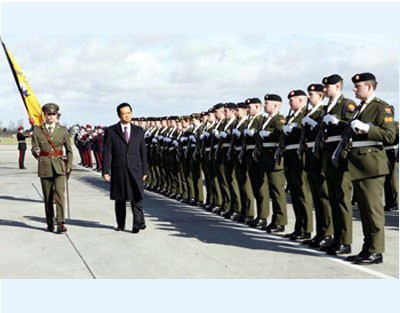 PM Nguyen Tan Dung reviews an honor guard after arriving in Dublin on March 9
Prime Minister Nguyen Tan Dung and his entourage arrived in Dublin on March 9, beginning their three-day official visit to Ireland at the invitation of Prime Minister Bertie Ahern. 
 

Right upon his arrival, PM Dung visited several cultural establishments in Dublin and received the Chief Executive of Imperial Tobacco Group.  
As scheduled, the Vietnamese government leader will hold talks with his Irish counterpart Bertie Ahern on March 10.  
The same day, he will receive John O'Donoghue, speaker of the Irish House of Representatives; Pat Moylan, speaker of the Senate; and John Hurley, Governor of the Central Bank of Ireland .  
He will also visit the Dublin City University.
On Friday, during a visit to Frankfurt, the Prime Minister visited the Frankfurt Stock Exchange and attended the Viet Nam-Germany Business Forum.
At the meeting, the PM briefed the 300 delegates about Viet Nam's economic-development plans over the next few years.
He said the Vietnamese Government would focus on stabilizing the macro economy and creating favorable investment conditions for foreign firms.
"Viet Nam will realize its commitments to the international community and complete administrative reforms and changes to the legal system so as to create a free and transparent business environment for foreign investors, including German businesses," he said.
After the meeting, Viet Nam's Aviation Corporation, Petro Construction Corporation and Investment Bank and the German Bitgevin Corporation signed a US$1.5 billion contract to build the Xuan Phuong Urban Area in Germany. Vietnam Shipbuilding Industry Corporation signed a US$400 million contract building cargo ships with German STA Holding Und Management corporation.
Vinatex and Deutche Bank signed a co-operation agreement on bond issuance worth US$500 million.