Prime Minister Nguyen Tan Dung on Monday began a nine-day visit to the UK, Germany and Ireland, raising hopes of boosting investment from the three European countries in Viet Nam.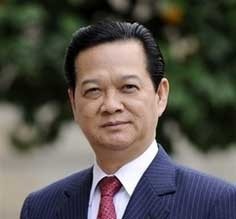 PM Nguyen Tan Dung
The same day, the Foreign Investment Bureau under the Ministry of Planning and Investment said the UK is currently ranked 14th among 81 countries and territories investing in Viet Nam. It is third behind France and the Netherlands in a list of 19 EU investors with 99 projects totaling US$1.44 billion.

Ho Chi Minh City attracted the most British investors, making up 39 percent of the total investment capital and 36 percent of investment projects.

Leading British businesses are mostly involved in oil and gas, mineral exploration, finance and banking, telecommunication and aviation engineering.

Notably, Viet Nam has three projects worth US$500,000 underway in the UK in return.

Germany is currently ranked the 19th among 81 countries and territories investing in Viet Nam with 98 projects totaling around US$546 million, mostly in construction and industry.

Since Viet Nam joined the World Trade Organization, trade between Viet Nam and Germany has expanded, making US$4.3 billion in two-way trade in 2007, a surge of 54 percent from 2006.

Viet Nam has five projects worth US$4.87 million running in Germany, including a centre named "VIETHAUS" to promote Viet Nam's trade and investment opportunities, culture and tourism in Germany. It will be inaugurated during the PM's visit.

Ireland is the smallest among the three EU investors with only four projects worth US$4.3 million, ranking 60th among 81 investors. Viet Nam has yet to invest in Ireland.