Agriculture and food production is very important for all countries, as it ensures food security, contributes towards jobs creation, reduces poverty and ensures social security, emphasized Prime Minister Nguyen Tan Dung.
Vietnam is ready to share experiences and boost cooperation with countries focused in agriculture and rural development, Prime Minister Nguyen Tan Dung added.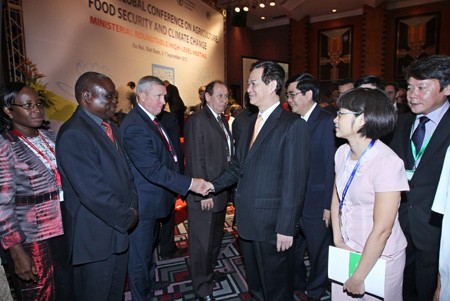 Prime Minister Nguyen Tan Dung at the conference. (Photo: VnExpress)
He made the statement while attending the second 'Conference on Agriculture, Food Security and Climate Change', which opened in Hanoi on September 6.
The conference is being jointly organized by the Vietnamese Ministry of Agriculture and Rural Development, the Dutch Government, the World Bank and the UN Food and Agriculture Organization (FAO). The event has drawn the participation of more than 500 delegates from 150 countries and about 20 international organizations.
PM Dung praised the conference theme, 'Hunger for Action', and its focus on discussing practical issues and defining suitable and effective strategies to develop eco-friendly agriculture as well as promoting sustainable development and green growth.
However, Prime Minister Dung also expressed concerns about natural disasters, climate change, increasing complexities that are threatening sustainable development in many countries, particularly in agriculture.
Ensuring food security and poverty reduction has become more difficult, more challenging, especially in developing countries in Asia-Pacific region where food production meets 50 percent of the world production but the population accounts for more than 60 percent of the world's population.
The area is also fragile and will be most severely affected by climate change, particularly rising sea levels.
According to the PM, agriculture plays an important role and is always seen as a top priority in Vietnam's socio-economic development strategy.
Over the past years, Vietnam's agricultural sector has recorded many considerable achievements, especially in food and seafood production and industrial crop cultivation, he said, adding that the country has now become the world's second largest rice exporter.
In this new period of development during 2011-2020, Vietnam has set a target for developing agriculture in a comprehensive, modern and sustainable manner, with larger scale production and high productivity, quality, efficiency and competitiveness, ensuring national food security and meeting domestic consumption and export demands, he said.
Vietnam is forecast to be one of the countries to be hardest hit by climate change, especially rising sea levels, which is a big threat to agricultural production.
Therefore, to realize the above-mentioned target, Vietnam is actively restructuring its agricultural sector, focusing on well exploited potential areas, speeding up scientific and technological research and application in production, restructuring production in combination with processing industry development and goods consumption, as well as strengthening environmental protection, he said.
"We are ready to cooperate with countries and relevant international organizations in developing pilot models on green agriculture in Vietnam," PM Dung stressed.
Together with the effective use of domestic resources, Vietnam plans to step up international integration and cooperation in order to create a favorable environment for attracting overseas resources for development, he said.
PM Dung stressed that Vietnam wants to receive more assistance and cooperation from countries and international societies in the cause of national construction and development.
He said that supporting Vietnam to cope with climate change, raising food and agricultural production efficiency means contributing to the sustainable food security in the world, because now Vietnam rice exports account for one fifth of global rice production.
Vietnam also produces other agricultural products in large quantities, especially coffee, seafoods.