Prime Minister Nguyen Tan Dung has asked countries in the Mekong River basin to share water resources and prepare plans on cooperative exploitation and use of water.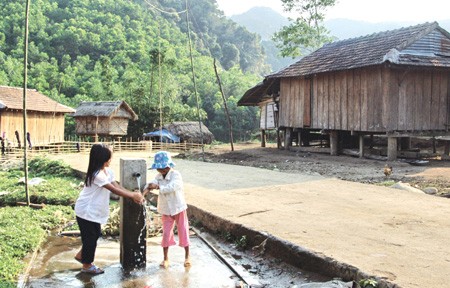 Demand for water is increasing amidst the threat of water pollution and salinity intrusion (Photo: VNA)
"Neighbouring countries' cooperation on transboundary water resources is important for the sustainable development strategy of Viet Nam for the 2011 – 2020 period," he said.
Dung spoke at the National Meeting for World Water Day (March 22) and at a ceremony during the ASEM Seminar on Water and River Basin Management held yesterday in Can Tho City.
Two-thirds of Viet Nam's water volume is derived from international water resources that flow into the Mekong and Red rivers.
"Water, which is essential for all manufacturing activities, has become the second-most important strategic resource, after human resources," Dung added.
In recent years, pollution and salinity intrusion have threatened existing water sources while demand for water is increasing.
The world's second-largest rice exporter, Viet Nam is experiencing increased demand for water from industries and services as well as for navigation purposes.
Dung urged ministries, agencies and local authorities to develop information exchanges and a legal framework on the exploitation and sustainable use of water resources.
Globally, about 150 countries share water resources for daily life and economic development.
"Transboundery water resources will require cooperation among countries about these common issues, especially during a period of globalisation," Dung said.
He said that cooperation on water use of the Mekong River was especially important.
In only one decade, the Mekong River has become one of five in the world with reduced water volume due to drought.
This has had an impact on the Mekong (Cuu Long) Delta, the country's rice basket.
"Protecting water resources brings more cooperation opportunities," said Dung.
At an earlier event, during the National Meeting for World Water Day, Koos Neefjes, the UN representative in Viet Nam, noted that one-third of the world's people were living in countries with moderate to high water stress.
"Competition is growing between farmers and herders, industry and agriculture, town and country," he said, quoting UN Secretary General Ban Ki-Moon.
The Secretary-General also called on parties both upstream and downstream as well as across borders to cooperate on water usage.
Victoria Kwakwa, the World Bank's country director for Viet Nam, noted that water played an important role in agriculture development, food security and energy security.
In the poorest areas of Viet Nam, access to water was fairly low, one of the reasons that made poverty reduction challenging, she said.
Influences from climate change and sea level rises made it even tougher, Kwakwa said, adding that dialogue between countries upstream and downstream of the Mekong River was vitally important.
Water cooperation contributes to poverty alleviation, social justice, improved living conditions and education opportunities, especially for women and children.
By 2025, there will be 1.8 billion people in the world living in areas without water, and two-thirds of the world's population will have difficulty accessing water resources.
The UN has named 2013 the International Year of Water Cooperation.
The World Water Day emphasises the need to strengthen water cooperation and develop solutions that harmonise water allocation between economic sectors.