Prime Minister Nguyen Tan Dung called on Vietnamese localities, businesses and hospitals to invest more in Cambodia, contributing to fulfilling local people's demand for healthcare and consolidating the traditional friendship between the two countries.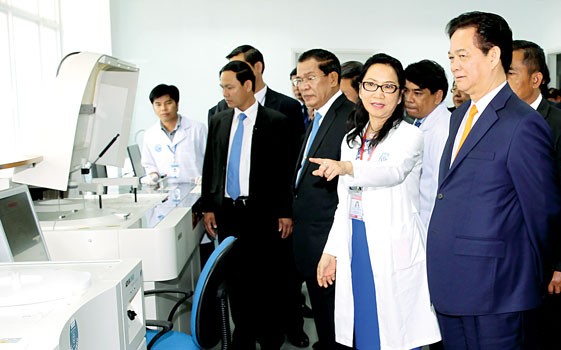 PM Nguyen Tan Dung and his Cambodian counterpart Hun Sen visited the Cho Ray-Phnom Penh General Hospital. (Photo: SGGP)
The PM made the appeal at the inaugural ceremony of the Cho Ray-Phnom Penh general hospital, the first cooperative project in healthcare between Vietnam and Cambodia , in Phnom Penh on January 13.
He laid stress on the rapid development of cooperation in economics and investment between Vietnam and Cambodia in recent years.
Many projects invested by Vietnamese businesses in Cambodia have been put into service, contributing to the country's socio-economic development and improving local people's living standards, he noted.
The Vietnamese leader highly valued the close collaboration between municipal leaders of HCM City and Phnom Penh during the implementation of the project as well as efforts made by the Association of Vietnamese Investors in Cambodia, the Bank of Investment and Development of Vietnam (BIDV) and the Bank for Investment and Development of Cambodia (BIDC), which have assisted the project's main investor.
Cambodian PM Hun Sen said outcomes of economic, trade and investment cooperation between Vietnam and Cambodia over the past time, especially the building of the Cho Ray-Phnom Penh hospital, have helped cultivate the traditional and fine friendship between the two countries.
The Cambodian leader expressed his hope that the hospital will take care of Cambodian people's health and become a prestigious facility in the country while serving as a venue for Vietnamese and Cambodian doctors and professors to share professional skills.
Construction of the hospital began in May 2010 with a total investment of about 40 million USD. The hospital now has 200 beds, which will increase to 300 in the second phase.
Once operational, the hospital is expected to help ease patient overload in hospitals in Cambodia , meeting the demand for healthcare in Phnom Penh and neighbouring areas