Prime Minister Nguyen Tan Dung launched a patriotic movement in Hanoi on June 8 with a call for the "entire nation to join hands in building a new style of countryside".
Dung, who is also President of the Central Council of Emulation and Rewards, recalled the history of emulation movements since June 11, 63 years ago, when President Ho Chi Minh released a call for a patriotic emulation movement.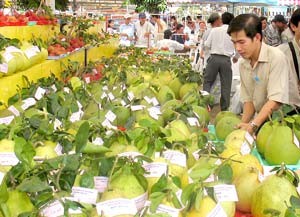 Saigon Giai Phong file photo of Mekong Delta pomelo on sale in the delta region
"The beloved Uncle Ho's call had received a strong response from people of all walks of life, generating a huge momentum and strength for national construction and defence," said the Government leader.
Dung emphasised the strategic position held by agriculture, farmers and countryside in national construction and defence, as well as in political stabilisation.
They are an important force in conserving and promoting the nation's cultural identity and protecting the environment and ecological system, he added.
Seventy percent of the national population reside in the countryside, while agriculture provide jobs for some 50 percent of the national workforce and contribute an estimated 20 percent of the national GDP and almost 30 percent of the national export turnover.
Agriculture has grown drastically over the past 25 years of national renewal – especially in the past decade – with a growth rate of 3.6 percent annually.
However, the poverty rate remains high in countryside, especially in remote mountainous areas and ethnic minority communities, he noted.
Dung emphasised the Government and Party policy of speeding up the renewal process and strengthening national power through industrialisation and modernisation.
All this is aimed at building a new style of countryside with sustainable development, which the Government has considered an urgent task and a strategic position in the revolutionary cause, the Prime Minister concluded.