It's time to overhaul Vietnam's rice production given that the staple plays an irreplaceable role in the country's agriculture, Prime Minister Nguyen Xuan Phuc said yesterday, adding that the rice sector needs to pay more attention to the domestic market of nearly 100 million people to prevent domination by imported rice.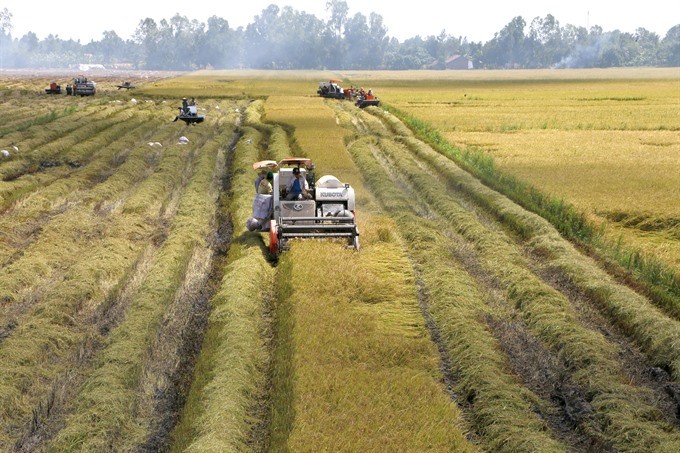 Farmers harvest rice in Vi DongCommune, Vi ThuyDistrict, the southern province of Hậu Giang. Prime Minister Nguyen Xuan Phuc has urged rice production reform to develop the sector in the Mekong Delta. – VNA/VNS Photo Duy Khương
The PM also urged local authorities to encourage private investment in agriculture and rely on people, science and technology, not the State, to develop agriculture, he stressed.
The PM spoke while chairing a conference on ways to develop the sector sustainably in the Mekong Delta – the rice hub of the country.
The Mekong Delta provides up to 90 per cent of Vietnam's rice exports due to its flat terrain, fertile soil, and abundant water supply from the Mekong River. Vietnamese rice is sold to more than 150 countries with China, the Philippines, Malaysia and the Ivory Coast its biggest importers.
However, an estimated 787,235 tons of rice worth over US$328 million were exported in the first two months of 2017, down 18.5 per cent in volume and 21.4 per cent in value from a year earlier.
The rice sector is facing a high loss rate and over-15-per cent broken rice, accounting for up to 36 per cent of exported rice, according to reports at the conference in Long Xuyên City of An Giang Province.
Other problems in the Mekong Delta include climate change impact such as drought, sea level rise, and saltwater intrusion, along with fluctuation in the water resources due to economic activities of countries in the upper Mekong River.
Minister of Agriculture and Rural Development Nguyen Xuan Cuong said rice farmers in the region are still poor as they gain the lowest benefits in the rice production chain. Each family that cultivates three rice crops a year earns VND35-40 million ($1,530 –1,750) in profit per hectare, about 2.7 times lower than in Thailand and 1.5 times lower than in Indonesia and the Philippines.
In his speech, PM Phúc said rice plays an irreplaceable role in Việt Nam's agriculture, which forms a pillar of the economy. Agricultural exports brought home over $32 billion in 2016. Almost 50 per cent of the country's workforce engages in agricultural activities.
He asked the rice sector to launch a comprehensive reform with breakthrough solutions in terms of policies and development models. He suggested expanding the land ceiling limit for each farming household in an appropriate manner. The cropping calendar and intercropping must also be considered, the Government leader said.
The conference set a target for the profit of rice growers in commercial rice production areas to account for at least 30 percent of the total revenue. The area of certified rice varieties should make up over 75 per cent by 2020 and 100 per cent by 2030. Post-harvest loss must be reduced to under 8 percent and the greenhouse gas emissions must be cut down by 10-20 per cent.
Nonetheless, participants at the event said ineffective rice farming land should be converted into areas for aquaculture or planting trees with better economic benefits.
During his working trip to An Giang, PM Phuc visited a vegetable and fruit processing line of the An Giang Fruit-Vegetables & Foodstuff Joint Stock Company in Chau Phu District.