Prime Minister Nguyen Tan Dung asked government authorities to look at restructuring and recalculating salaries.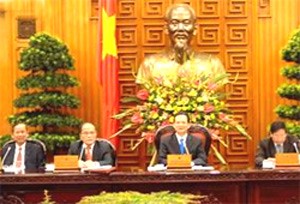 PM Nguyen Tan Dung (2nd, R) chairs the final session of the 2002-2007 term
At the July 16 final session of the 2002-2007 term, PM Dung said that, based on the past years' figures, salaries should be raised according to the spending on salaries in the State budget.

For the business sector, salary payments will be made according to the Enterprise Law, with the minimum salary grade being defined soon, he added.

He said salaries of administrative staff and employees of non-manufacturing corporations are rather low, and asked authorities to consider carefully recalculating salary increases for them.

Government members at the session also discussed reform policies regarding social welfare and government pensions for the 2008-2010 period.

PM Dung asked ministries and agencies to look at restructuring in a bid to streamline the cabinet.

PM Dung said that the plan to incorporate four ministries into other ministries for the 12th National Assembly's 2007-2012 term was approved by the recent Party Central Committee's fifth plenum.
Chairing the session, PM Dung went on to stress the need to encourage all economic sectors to develop education and health care services. He also added that State-owned schools and hospitals must ensure places and treatment for the disadvantaged.
The Government members concluded the meeting by approving a 31-article draft decree that will direct the execution of the Enterprise Law and discussed an amendment decree on the setting of land prices.
Regarding the decree, PM Dung said the country must maintain at least four million hectares of rice cultivation in order to ensure Viet Nam's food security.