Prime Minister Nguyen Tan Dung has called for carrying out a thorough examination and fixing all technical problems plaguing the Dung Quat oil refinery before reopening the country's first refinery on September 30.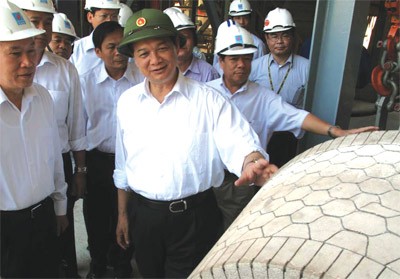 Prime Minister Nguyen Tan Dung (green hat) visits the Residue Fluid Catalytic Cracking Unit at the Dung Quat Oil Refinery in central Quang Ngai Province.
He was leading a Government delegation on September 20 to inspect the refinery in the central province of Quang Ngai which has remained shut since August 18 due to technical problems with equipment.
Truong Van Tuyen, head of the refinery management, and deputy general director of the National Oil and Gas Group (PetroVietnam), said after the breakdown, the contractor, suppliers, and technical experts had worked together to identify the cause of the problem in the residue fluid continuous cracking unit and fixed it.
 
The refinery would work at 65 percent capacity when it opens again on September 30, Mr. Tuyen added.
Mr. Dung praised the troubleshooting efforts of the refinery's managers, contractors, and suppliers in fixing the problem.
 
But have to work harder together to carefully check all other units before operating again, he warned.
 
The refinery's other technical problems have to be fixed too, he said, adding PetroVietnam would only take it over again when it meets all technical parameters.
The PM approved a PetroVietnam plan for a study to expand the refinery's capacity from the current 6.5 million tons a year to 10 million tons.
Dung Quat, which went on stream on June 24, had, by August 18, produced almost 40,000 tons of LPG, 198,000 tons of A92 gasoline, 143,000 tons of diesel, 38,000 tons of kerosene, and 18,000 tons of fuel oil.
The PM also visited a polypropylene plant that is under construction next to the refinery.
Related article:
Vietnam's oil refinery pauses operation