Prime Minister Nguyen Tan Dung has asked media agencies to work harder to raise the people's awareness of climate change and ways to respond and adapt to it.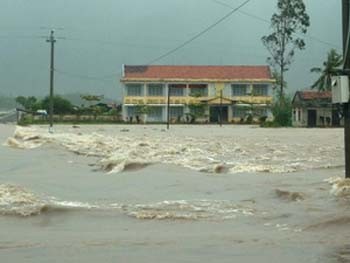 Flooding caused by Typhoon Mirinae in the central region last November (Photo: VNA)
He also asked ministries and sectors to regularly update their development planning in the context of climate change in order to work out and deploy response plans in a uniform and efficient manner.
The Government leader chaired a meeting of the National Steering Committee for the National Climate Change Response Programme in Hanoi on December 7. The meeting reviewed the Committee's performance this year and discussed its deployment plans for the coming years.
To tackle climate change, the country needs to soon work out a comprehensive plan, especially for irrigations works, the participants said.
They blamed climate change for the unseasonal floods that ravaged the central and central highlands regions recently, and drought in the Red river delta—resulting in lower water levels in the river than have been recorded in over a hundred years.
Since the adoption of Decision 158/2008/QD-TTg that details the National Climate Change Response Programme, the Ministry of Natural Resources and the Environment has worked together with other ministries and sectors to come up with climate change and sea level rise scenarios for the country.
The ministry, which is taking the lead in the fight against climate change, has also issued guidelines to help other ministries and localities nationwide to formulate their own action plans to deal with the issue.
As the ministry has calculated, nearly 2 trillion VND will be needed for the implementation of the climate change response programme by 2015, with half of the amount provided by international organizations and donors.
It has already outlined a plan to deploy the National Climate Change Response Programme for 2010 and the following years.