Prime Minister Nguyen Tan Dung yesterday asked relevant Government agencies to strive to balance this year's State tax collection and spending.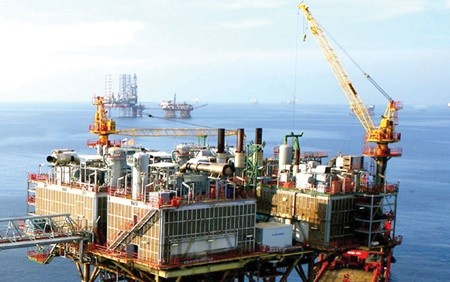 An oil rig of the Bach Ho oil field in Ba Ria - Vung Tau Province. Over the first seven months of the year, the export price of crude oil, which contributes roughly 10 per cent of total State revenue, averaged only US$60 a barrel, far below the budget assumption of $100 a barrel. (Photo: VNA/VNS)
He made the request while hosting the monthly Government meeting in Ha Noi.
According to a report by the Ministry of Finance, state budget collection this year is estimated to increase by 7 per cent, but the increase mainly stems from localities. The state budget deficit is estimated at VND31 trillion (US$1.4 billion). The central budget collection actually decreased due to falling oil prices and the reduction of the enterprise income tax.
In the first seven months of the year, the export price of crude oil, which contributes roughly 10 per cent to the total State budget revenue, averaged only US$60 per barrel. Meanwhile, the State budget estimates were approved on the basis of the projected crude oil price of $100 per barrel.
While discussing the issue of basic wages for State employees, most Cabinet members said they thought it would be difficult to raise wages with a tight State budget. The Government plans to carry out proper calculations and submit the proposal to the National Assembly by next March.
The Cabinet members shared the view that Viet Nam's economy continued recovering considerably during the period as evidenced through stable macro-economy, slow inflation pace – estimated at around 2 percent for the whole year, fair credit growth, bad debt declining to under 3 per cent which fulfilled this year's target, increased aggregate demand and purchase power, strongly improved business climate, soared industrial production, and higher foreign tourist number.
Significant growth has also occurred in the construction sector, while the processing industry and manufacturing sectors are creating a positive motivation to develop the economy. Members believed that the Gross Domestic Product's growth rate could reach above 6.5 per cent.
For the first 10 months of this year, the total amount of implemented FDI was $11.8 billion, an increase of 16.3 per cent compared to last year's same period. The amount of registered FDI was $19.3 billion. About 1,360 jobs were created in the first 10 months, accounting for 85 per cent of the year's plan.
Participants also spent time discussing difficulties and problems that needed to be addressed, including issues in agriculture and fishery.
"Challenges for the agriculture sector have arisen since the beginning of the year. The production value has increased in general, but at a modest rate," said Prime Minister Dung.
"Apart from natural disasters and epidemics, pricing and the consumption market are two other important factors that need to be addressed," he said.
The Prime Minister asked relevant ministries and sectors to continue closely monitoring and actively responding to domestic and international developments while enhancing their coordination in steering the macro-economy. Keeping macro-economic stability, improving the business environment, promoting competitiveness and providing optimal conditions for people and enterprises must be in focus.
He also urged these bodies to promote exports and properly control excess imports, while taking full advantage of the free trade agreements that Viet Nam has joined to improve its development.
He also ordered better implementation of policies targeting national devotees and social policy beneficiaries along with measures on educational, healthcare, cultural, social and environmental development, natural disaster prevention and climate change response.
Ministries and sectors were demanded to foster the safeguarding of defence, security and national sovereignty as well as external relations and international integration activities.