Prime Minister Nguyen Tan Dung has urged the Central Highland province of Kon Tum to concentrate on developing the plantation of coffee and rubber trees as a way to help local people, especially ethnic minority groups, thrive.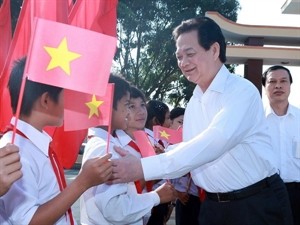 PM Nguyen Tan Dung meets with children in Morai commune. Photo: VNA
During his working session with the provincial authorities on January 5 to assess socio-economic development in 2013 and plans for 2014, the Government leader stressed that the poverty level - nearly 20 percent - remained high.
Urging Kon Tum to use its natural resources to reduce poverty, he instructed the authorities to focus on growing crops that could generate higher revenue, such as rubber, coffee, corn and local specialities, and increasing the use of technology in production.
He highly valued Kon Tum's socio-economic achievements in 2013 and its contributions to national development, and emphasised the necessity of concrete policies to attract businesses to invest in rural areas.
The Prime Minister said he hoped that the province brings into full play its advantages to serve developmental goals, especially making the best use of land and forestry, and improves further people's physical and spiritual lives.
Kon Tum needs to promote health, culture and education development, accelerate the administrative reform, effectively build new-style rural areas, protect the ecological environment, and reinforce national defense and security and social order and security.
Ha Ban, provincial party committee secretary, said Kon Tum managed economic growth of 12.4 percent in 2013. GDP per capita was increased by 15.8 percent, to 25.75 million VND (1,200 USD) and progress was made in healthcare, education and new rural areas.
In 2014, Kum Tum indentifies a GDP growth of 13 percent and a GDP per capita of 29 million VND, an export turnover of 86 million USD and a decrease of 4-5 percent in the proportion of poor households.
The province should focus on higher-added value products such as rubber and coffee, increase investment in livestock breeding and improve management of land, minerals and natural resources, he said.
Besides, it should continue maintaining border security and fostering cooperation with Lao and Cambodian provinces.-VNA