The Vietnamese Government has to be determined to tame next year's inflation at 9% although it is a difficult task, Prime Minister Nguyen Tan Dung said at a cabinet meeting in Hanoi Friday.
He was concluding the two-day meeting, which also reviewed the State budget for 2011 and discussed the budget for next year.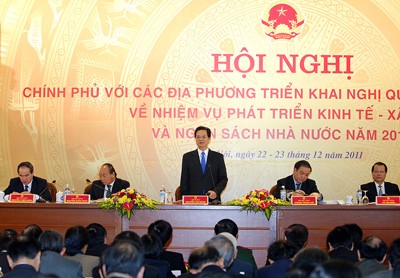 Prime Minister Nguyen Tan Dung (C) addresses the cabinet meeting (Photo: Government website)
Curbing inflation and stabilizing the economy will continue to be Vietnam's top priorities next year, the PM said, adding that the Government had to control inflation on single digits and strive for 9%.
In his conclusions, he said the Vietnamese economy grew 5.9% this year and the Government set next year's GDP growth at 6%.
"The 6% growth is extremely difficult to beat," said the Government leader.
He reaffirmed that Vietnam has been concentrating on putting down inflation.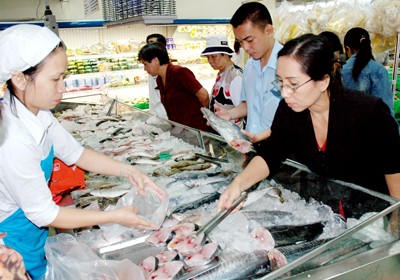 Various fisheries items do not see price increases recently (Photo: Duc Tri)
The PM added Vietnam would continue to cut public investment and take steps to curb interest rates and tame credit growth.
State Bank of Vietnam Governor Nguyen Van Binh said curbing credit growth means many enterprises find it hard to get access to bankers' loans.
Mr. Binh said efforts to curb credit growth in 2011 have contributed to inflation controlled at 18%. "Any policy has two sides [of a coin]. When a policy comes out, a group of enterprises of residents will suffer aftermaths."
"In early 2012, there will be suitable policies such as rescheduling debts or freezing debts to help some groups deal with difficulties," the central bank's chief said.