Prime Minister Nguyen Tan Dung demanded Friday Northern and Southern Food Corporations buy one million tons of coarse rice. There is now 500,000 – 600,000 tons of husked rice in the Mekong Delta.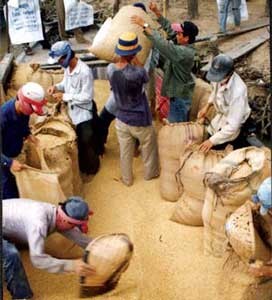 Rice harvested in the Mekong Delta
The corporations have been given until February next year to complete the purchase.

The Prime Minister also requested that the Bank for Agriculture and Rural Development to provide loans to the two state-run corporations. The government will support food companies with 100% interest-free loan to assist the two corporations in buying rice stocks.
This is the second time in a month that the Prime Minister has demanded the two food corporations buy rice from farmers.
In the beginning of November, he told the two corporations to buy 300,000 tons of rice from farmers and agricultural businesses.
Moreover, he demanded banks extend low interest loans to farmers to maintain production.