Prime Minister Nguyen Tan Dung has made administration reform a top priority for Ha Noi authorities during 2009 during a working session with the municipal leadership on Dec. 17.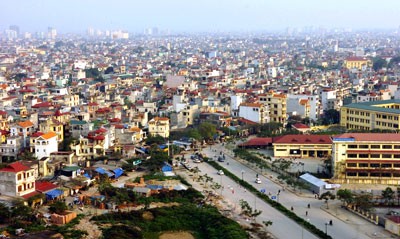 A corner of Hai Ba Trung District in Ha Noi (Photo:SGGP)
The working session, which was also attended by four of his five deputies, reviewed the capital city's socio-economic development during 2008 and examined solutions to next year's threat of economic recession.
The Government leader identified staff appointments and administrative reforms as the toughest tasks for the leaders of the capital, which has emerged as the world's 17 th largest capital city following its expansion, incorporating Ha Tay province and part of Hoa Binh province.
He also instructed the Hanoian authorities to take steps to increase levels of investment and tourism and extend practical assistance to enterprises to facilitate production and exports in the midst of a global economic downturn.
"Efforts should be made to effectively and feasibly implement the Government's financial and monetary policies, while strengthening social welfare and reducing poverty rates," Dung said.
He also urged the capital city to tighten public security, transport safety and food sanitation measures while accelerating site clearance activities for projects related to the Thang Long-Ha Noi Millennium Anniversary celebrations in 2010.

After recognising the achievements recorded by Ha Noi during 2008, including its efforts to control the rate of inflation, the Government leader expressed his dissatisfaction over the city's ongoing problems regarding planning, land management, disbursement of capital for infrastructure projects, environmental pollution and administrative reforms.
" Ha Noi ranks 31 st out of the 63 provinces and cities in the provincial level competitiveness indexes," he said with disappointment.
In reply, Pham Quang Nghi, Politburo member of the Communist Party of Vietnam and Secretary of the Hanoi Party Committee, pledged to speed up the formulation and promulgation of procedures and regulations applicable to the newly-expanded capital and to work closely alongside the Construction Ministry to draw up a master-plan governing construction in Hanoi .
"Ha Noi will intensify its investment in those projects which are proving to contribute to the city's socio-economic development, remove obstacles in administrative procedures for enterprises and improve the business climate while ensuring social welfare," promised the municipal leader.
Ha Noi has set itself the target of posting a GDP growth rate of between 9.5 and 10 percent for 2009, as well as increasing export revenues by 20 percent