Prime Minister Nguyen Tan Dung joined leaders of other ASEAN member countries and Japan at the ASEAN – Japan Commemoration Summit in Tokyo on December 14 to mark 40 years of ASEAN-Japan dialogue ties.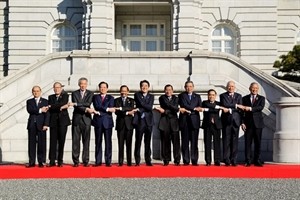 ASEAN and Japanese leaders (Source: VNA)
At the event, Japanese PM Shinzo Abe declared a five-year funding of 2 trillion JPY (20 billion USD) to ASE AN connectivity projects and efforts to narrow development gaps within the 10-member Association of South East Asian Nations (ASEAN).
Japan will also provide an additional 100 million USD for ASEAN – Japan Integration Fund and 3 billion USD to support the bloc in improving its managerial capacity and natural disaster resilience.
Additionally, an Asia centre to increase the exchanges of students, artists and scholars will be launched and a Junior ASEAN Football tournament will be held.
Abe affirmed that Japan treasures all-around cooperation with ASEAN and backs the region's central role in the evolving regional architecture.
ASEAN leaders spoke highly of Japan 's collaboration and great assistance to the regional group. Japan was one of the first partners to establish dialogue relations with ASEAN in 1973 and join the group's Treaty of Amity and Cooperation (TAC). Over the past 40 years, the East Asia power has always been an important economic, trade and investment partner as well as the largest aid and ODA donor of ASEAN.
At present, Japan is the second largest trade partner of ASEAN with two way trade reaching 262.4 billion USD last year. Japan's direct investment in ASEAN hit 20 billion USD in 2012, making up one third of the total FDI flow into the region that year.
Concluding the summit, ASEAN and Japanese leaders adopted a Vision Statement on ASEAN-Japan Friendship and Cooperation, a Plan of Action to implement the Vision Statement and the ASEAN – Japan Joint Statement on dealing with regional and global issues.
They set out major orientations and concrete steps to foster bilateral partnership for peace, stability and prosperity in the region.
Accordingly, both sides will intensify cooperation in disaster management, anti-terrorism and anti-crime efforts, maritime and aviation security and safety, and economic-trade-investment with the goal of doubling the flow of goods, services and investments by 2022.
They agreed to work for the early signing of agreements on trade, services and investment towards establishing the comprehensive ASEAN – Japan Free Trade Area. At the same time, more efforts will be made to enhance ties in human resources, cultural exchanges, education, tourism, environment, climate change and sustainable use of water resources.
ASEAN and Japan stressed the importance and reiterated their strong will to ensure maritime security and safety, navigation and trade freedom without constraints, peaceful settlement of disputes in line with international law, including the 1982 United Nations Convention on the Law of the Sea (UNCLOS). They affirmed their backing of official ASEAN – China consultation on the Code of Conduct in the East Sea (COC).
In his speech at the summit, the Vietnamese PM stressed the strategic importance of the ASE AN-Japan ties and called for the mobilization of all resources to carry out existing commitment and agreements between the two sides.
He also laid emphasis on the need to ensure peace, security, safety and freedom of maritime activities, settle disputes in a peaceful manner, abide by international law and the UNCLOS 1982, seriously implement the DOC and work hard to realize the COC.
At the same time, PM Dung called for ensuring aviation freedom and safety on the basis of international law and practice as well as standards of the International Civil Aviation Organisation (ICAO).-VNA