Prime Minister Nguyen Tan Dung on March 28 (Vietnam time) arrived in Haiti, beginning his official visit to Haiti at the invitation of his counterpart Laurent Lamothe.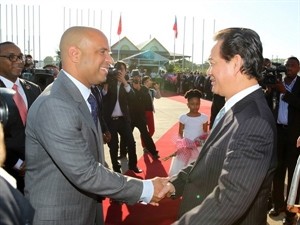 Haitian Prime Minister Laurent Salvador Lamothe greets his counterpart Nguyen Tan Dung at the Toussaint Louveture airport (Photo: VNA)
PM Dung and the Vietnamese delegation were greeted at the Toussaint Louveture airport by Prime Minister Laurent Lamothe and other Haitian officials.
The visit aims to look at measures and orientations to further deepen Vietnam-Haiti relationship and promote south-south bilateral trade and cooperative ties.
Vietnam and Haiti have enjoyed remarkable developments in their relationship over the recent time and close coordination at international and multilateral forums.
Prime Minister Laurent Lamothe paid an official visit to Vietnam in December 2012, the first by a top leader of Haiti to Vietnam, which helped accelerate bilateral economic, trade and investment ties.
Bilateral trade hit 42 million USD in 2013. Vietnam mainly imported apparel materials, pulp and animal feed from Haiti while shipping rice, apparels, rattan, wooden products, chemicals and other goods to the market.
The two countries are pushing ahead with building a joint committee on economic, trade and investment cooperation.