Right upon his arrival in Berlin on March 6 for an official visit to Germany, Prime Minister Nguyen Tan Dung held talks with the host country's Chancellor, Angela Merkel.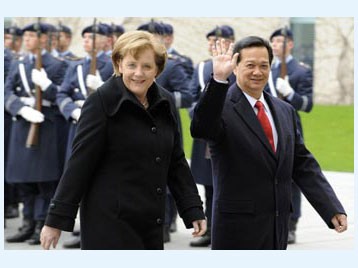 German Chancellor Angela Merkel and Vietnamese Prime Minister Nguyen Tan Dung inspect an honor guard on March 6 at the Chancellery in Berlin (Photo: AFP)
Their talks focused on measures and projects to rivet bilateral relations and boost cooperation on regional and international forums. They emphasized four major topics, namely to increase mutual understanding through strong relations at all levels, make joint efforts to promote ties in economics, trade and investment, strengthen cooperation in education and vocational training and promote partnerships for development.
The two sides also appreciated the signing of cooperation accords in the presence of the two Government leaders. They include a Governmental agreement on the German involvement in a metro project in Ho Chi Minh City as well as bilateral cooperation in economic managers training.
Chancellor Merkel lauded the approval of a joint Governmental declaration on judicial and legal cooperation. She also called for a broader range of bilateral trade and agreed upon further cooperation in transport, environment, energy and telecommunication.
The German Government leader highly valued great achievements recorded by the Vietnamese Government in implementing the Millennium Development Goals. She reaffirmed key sectors of bilateral cooperation in sustainable economic development, environmental protection and healthcare.
Prime Minister Dung expressed satisfaction at the recent fine development of bilateral relations in various fields. He urged for stronger cooperative ties in the years to come, focusing on investment, trade and education and training.
The Vietnamese Government leader invited his host to visit Viet Nam.
After the talks, PM Dung and his German host witnessed the signing of a governmental agreement on the metro project in Ho Chi Minh City, and a memorandum of understanding on a 100 million USD cooperation project in economic managers training between the Reconstruction Credit Institute (KfW) of Germany and the Viet Nam Development Bank.
Earlier, the Vietnamese government leader attended the seventh Viet Nam-Germany Economic Dialogue forum, at which he stressed on potentials for a stronger development of the bilateral economic cooperation.
He said Viet Nam needs large investment for development of various fields that Germany is strong at such as hi-tech industries, infrastructure, telecommunication, electricity, aviation, education and services.
He called on German businesses to intensify investment in the Southeast Asian country, pledging to give them favorable conditions to do their business.
German Chancellor Angela Merkel and Vietnamese Prime Minister Nguyen Tan Dung inspect an honor guard on March 6, 2008 at the Chancellery in Berlin