Prime Minister Nguyen Tan Dung and his Qatar counterpart Hamad bin Jasim bin Jabir al-Thani have agreed to establish an energy and food partnership, and found a mutual interest joint investment fund worth US$1 billion.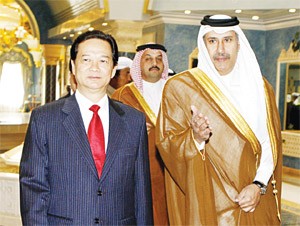 Quatari Prime Minister Hamad Bin Jassem Bin Jahbor Al-Thani (R) receives Vietnamese Prime Minister Nguyen Tan Dung on March 8 in Doha
The two leaders reached a consensus during their talks in Doha on March 8, as part of PM Dung's four-day official visit to Qatar that began on March 7.
The two PMs also spent time on measures to boost cooperation in labor and trade to bolster their investment and financial relations.
Additionally, they pledged to push their respective foreign ministries to hasten negotiations on visa exemptions for diplomats and official passport holders, so as to sign a treaty to this effect soon.
PM Dung opened the talks with praise about Qatar's great achievements in turning the Gulf nation into a major regional and global financial and commercial hub, and ended by expressing his satisfaction with the tremendous development of bilateral relations.
"Since Vietnam had the honor of hosting the Qatari Prime in 2007 and 2008, relations between our two countries have become ever closer, particularly regarding economic matters. Thus turning both countries' potential into reality that benefits both sides," said Mr. Dung.
"Vietnam appreciates its cooperative ties with Qatar, as an important partner in the Gulf region," he continued.
He concluded by inviting his counterpart to visit Vietnam.
In his remarks, Al-Thani welcomed his guest's visit as a huge step forward in bilateral relations, and pledged to boost multi-faceted ties with Vietnam, focusing on investment-finance, energy, agriculture, labor and trade.
He also committed to recognizing Vietnam as a full market economy, and said his country will soon open a diplomatic representative office in Ha Noi.
Their talks were followed up by the signing of treaties on avoidance of double taxation, encouraging investment and protection, cooperation in air-cargo transportation, and an agreement on agriculture cooperation and investment promotion.
Prime Minister Nguyen Tan Dung and the high-ranking delegation from the Vietnamese Government arrived in Doha on March 7.
The official visit, at the invitation of Prime Minister Hamad Bin Jasim Bin Jaber Al Thani, is the first ever to Qatar by a Vietnamese Prime Minister since the two countries established diplomatic ties in February 1993.
The two sides hope to consolidate and expand their political relationship, as well as strengthen multi-faceted cooperation between the two countries, particularly in the context of the on-going global economic crisis.
It is also hoped that PM Dung's attendance will help boost bilateral ties regarding the two countries' mutual strengths, including oil and gas, labor, agriculture and finance.