Prime Minister Nguyen Tan Dung on September 24 attended a ceremony to inaugurate the new building of the Vietnamese embassy in France following an official welcome ceremony in Invalides Palace in Paris.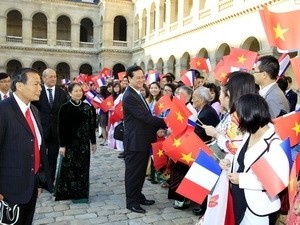 PM Nguyen Tan Dung in France. Photo: VNA
PM Dung is on an official visit to France from September 24-26 at the invitation of Prime Minister Jean-Marc Ayrault.
Talking with the embassy staff and the Vietnamese community in France at the event, PM Dung said despite limited resources, the Government attaches importance to the new building of the Vietnamese diplomatic mission in France, reflecting the fact that Vietnam appreciates the development of ties with France .
He said that the Vietnam-France relations have been expanded and developed in all aspects over the past time.
France considers Vietnam one of its key partners in the Asia-Pacific region, he said, adding that both sides have exchanged high-ranking visits on a regular basis, coordinated closely at international forums and established many cooperation mechanisms.
He noted leaders of both nations agreed that it is the right time to lift the Vietnam-France relationship to a strategic partnership level to deepen cooperation.
On the occasion, PM Dung updated the Vietnamese community in France on their homeland's socio-economic situation. He voiced hope that they will stand united and act as a bridge to further strengthen the friendship between Vietnam and France.
 
Earlier, the Government leader laid a wreath at the Ho Chi Minh Monument and toured the Ho Chi Minh Space at Montreau Park in Montreuil city.
Later the same day, he was due to deliver a speech at the French Institute of International Relations and meet with some French officials.