Prime Minister Nguyen Tan Dung went to Vinh Long province on Monday to survey the wreckage of Can Tho Bridge's northern ramp and discuss the disaster with the relevant authorities.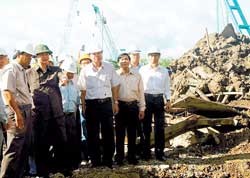 PM Nguyen Tan Dung (in green hat) surveys the site where the accident happens
In response to a question about the responsibilities of the bridge contractors and supervisors, the PM received a load of double talk from Duong Tuan Minh, general director of the My Thuan project management board, and let his dissatisfaction show.
Mr. Dung then told the parties concerned to look at alternative designs and construction methods for the entire bridge, and not to resume work on the section where two spans had come crashing down.
He asked the Japanese contractors to supply a full account with plenty of documentation to the national investigation committee, which has been tasked with determining the cause or causes of the accident and reporting back within a month.
The same day, Japanese Deputy Minister of Foreign Affairs Kimura Hitoshi met with the Ministry of Transport and the authorities of Vinh Long and Can Tho City.
The envoy conveyed his condolences to the victims' families and the Vietnamese people in general. He expressed a hope that the injured would recover soon and that the authorities would quickly discover the cause of the collapse.
Mr. Hitoshi said his government had sent engineers and set up a special oversight mission to help with the probe.
He hoped that the accident would not affect the fine relationship between Viet Nam and Japan, and likewise with the other Japanese-funded projects in Viet Nam like the North-South high-speed railway, North-South expressway and Hoa Lac Hi-tech Park.
Deputy Minister of Transport Le Manh Hung said much the same thing and asked the Japanese parties to help the victims' families more and resume work on the Mekong Delta bridge as soon as feasible.
Related articles:
Several Injured Bridge Workers Go Home
Bridge Collapse: Suspicion about Alternate Design Was Logical
Bridge Collapse: PM Demands an Answer
Two More Bodies Found in Bridge Rubble
Can Tho Bridge Case to Be Prosecuted
Investigation into Bridge Collapse Underway
Investigators Divided Over Cause of Bridge Collapse
Memorial Service for Victims of Can Tho Bridge Collapse
Leaders Urge Nation to Support Victims of Can Tho Bridge Collapse