Prime Minister Nguyen Tan Dung yesterday met with the President of Cuba's National Assembly Esteban Lazo Hernandez, as part of his official visit to the Caribbean country.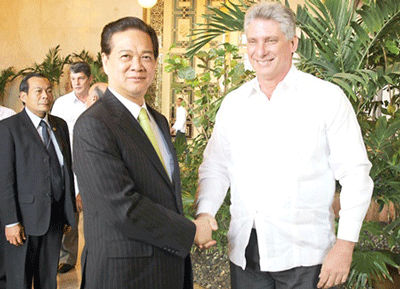 PM Nguyen Tan Dung (left) meets with First Deputy President of the Council of State of Cuba Miguel Diaz Canel Bermudez in Havana. (Photo:VNA)
PM Dung said he was impressed with the achievements of the Cuban Party, State and people in developing the country, particularly in the fields of health, education, science and technology.
The Government leader also expressed appreciation for Cuba's valuable support throughout Viet Nam's past struggle for national liberation and it's current socio-economic development.
Both sides agreed that the special relationship between the two countries had seen significant developments through agreements signed by their high-level leaders. They also said the establishment of the Cuba-Viet Nam Friendship Parliamentarians' Group in July 2013 was a further symbol of a close bilateral bond.
The Cuban legislative leader said he hoped the two countries would expand co-operation in economics, trade and investment, adding that Cuba was eager for more experience sharing with Viet Nam regarding socio-economic development.
Dung also extended an invitation on behalf of National Assembly Chairman Nguyen Sinh Hung to President Hernandez to attend the 132nd Assembly of the Inter-Parliamentary Union. The event will be held in Viet Nam in March 2015.
Later in the day, the Prime Minister plans to visit a Cuban rice farm in Pinar del Rio province to inspect the progress and efficiency of a joint agricultural project.
PM active in Cuba
On March 26, PM Dung visited the Cuban Institute for Friendship with the Peoples and the Cuba-Viet Nam Friendship Association during his official visit to the Caribbean nation.
In a meeting with the staff of both organisations, Dung stated that despite the geographical distance between the countries, Viet Nam closely followed news coming out of Cuba and was delighted at the country's socio-economic achievements.
Viet Nam was also committed to everlasting friendship and solidarity with Cuba, he said, adding that he believed Cuba would overcome all difficulties to develop further.
Earlier, the Government leader paid a floral tribute at President Ho Chi Minh's statue in Havana and visited the Vietnamese Embassy.