Prime Minister Nguyen Tan Dung met with French President Nicolas Sarkozy in Paris on Monday during his current official visit to France.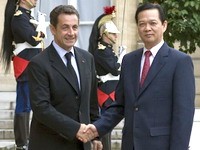 PM Nguyen Tan Dung (R) shakes hands with French President Nicholas Sarkozy in Paris on Oct 1 

PM Dung expressed his pleasure to visit France at a time when the two countries are stepping up reforms, saying that he was delighted at the positive development of Viet Nam-France ties in various fields. "The two countries are determined to promote traditional friendly ties, comprehensive long-lasting cooperation and mutual trust in the 21st century," he noted.

France is remaining Viet Nam's top European partner in all areas, the PM said, stressing his hope that French investors will pour more investment into Viet Nam, particularly in building transport infrastructure, energy, telecoms, banking, finance and farm produce processing.

The Vietnamese leader highly appreciated France's development assistance for Viet Nam, providing the country with 1.4 billion EUR from now until 2010. He expressed gratitude for the President's support to projects to upgrade and restore the French-styled works in Viet Nam, including the restoration of Ha Noi's Long Bien bridge, the upgrade of the Ha Noi Medical School and the construction of an urban railway system in the capital city.

He suggested that the two countries alternately organize the "Viet Nam month in France" and the "France Month in Viet Nam", and increase scholarships for Vietnamese students to study in France.

PM Dung affirmed Viet Nam's positive contribution to strengthen the Francophone movement and the conservation of national cultural identities and cultural diversity in the context of globalization.

He thanked France for supporting Viet Nam's bid to become a non-permanent member of the US Security Council in the 2008-2009 term, and conveyed President Nguyen Minh Triet's invitation to President Sarkozy to visit Viet Nam. The invitation was accepted with pleasure.

President Sarkozy stressed that France and Viet Nam share time-honored historical and cultural relations. Viet Nam is enjoying high economic growth, he said, affirming his belief that Viet Nam will be elected as a non-permanent member of the UN Security Council in the 2008-2009 term.

The French President highly valued the results of the talks between PM Dung and PM Francois Fillon, saying that agreements signed between the two sides would bring the two countries' relations to a new height.

President Sarkozy stressed that the two countries should promote relations, especially economic cooperation.