Prime Minister Nguyen Tan Dung stressed the importance of forecasting in policy-making and long-term growth in his address to the World Economic Forum (WEF)-2010 in Davos, Switzerland, on Jan. 28.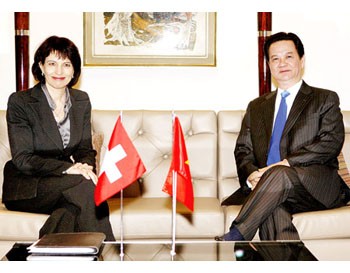 Prime Minister Nguyen Tan Dung (R) meets Swiss President Doris Leuthard on January 28 (Photo: VNA)
At the forum chaired by Dutch Prime Minister Jan Peter Balkenende, Dung pointed out the need to strengthen evaluation and forecasting so as to work out reasonable solutions and appropriate measures to implement necessary policies in a strong and flexible way.
"The regular review and upgrade of evaluations and analysis is also of primary importance to making timely adjustments in policies," emphasised the Vietnamese Government leader.
He also highlighted a high level of social consensus as a guarantee for the policy success as only with this can the Government encourage all economic sectors to implement its policies.
In regard to a country like Vietnam, whose average income is approaching that of the world average, the quality of growth is one of the key factors to ensure high and sustainable growth, and to pave the way for the country to turn itself into a developed economy, Dung added.
He also said "Constant and high economic growth should go hand-in-hand with macro-economic stability as well as quality growth in the interests of sustainable development. To that end, efforts should be made to hone the competitive edge of enterprises, products and the nation as a whole."
The Prime Minister unveiled Vietnam's post-crisis priorities which focus on pivot steps to gear up for a market economy, especially the restructuring of State-owned enterprises, administrative reform and improving the performance of management mechanisms.
His speech made it clear that efforts would be made to continue restructuring the economy, aiming towards higher quality and effective and stronger competitiveness. To achieve this, Vietnam will intensify investment in infrastructure and give priority to investment in industries with advanced technology and high added-value, which work in harmony with environmental protection. Investment will also be poured into human resources development and science-technology in an effort to gradually bring Vietnam to a level of development based on high-quality human resources.
That evening, local time, the Vietnamese Prime Minister, in the capacity of ASEAN Chair, is expected to address a plenary session of the World Economic Forum-2010, on the topic of reshaping global management.