Prime Minister Nguyen Tan Dung arrived in Sichuan, China, on October 15, beginning his visit to the province, to Chongqing City and also to attend the 10th Western China International Trade Fair.
On the day, in Sichuan's capital city of Chengdu, PM Dung met with Secretary of the Sichuan Provincial Party's Committee Liu Qibao where they discussed ways to fully tap the potential of both Vietnamese localities and Sichuan province for future cooperation.
PM Dung told the Sichuan official that economy, trade and tourism are areas that hold promise for joint cooperation.
He said he will ask relevant Vietnamese agencies to work with their Chinese counterparts on a plan to open a direct flight route from Vietnam to Chengdu and lay out appropriate mechanisms to facilitate Vietnam's cooperation with Sichuan at all levels, thus boosting ties between the two countries.
The PM reaffirmed that the Vietnamese government will provide every condition it can for Sichuan businesses to establish long-term investment in Vietnam and asked the Sichuan authorities to support and encourage their enterprises to invest in the mechanical engineering industry, infrastructure and agriculture in Vietnam.
PM Dung praised the authorities and the people of Sichuan for their endeavors to overcome the consequences of an earthquake that devastated the locality last May.
The Sichuan official said he highly valued PM Dung's visit to his province, regarding it as an important event in its relationship with Vietnam.
He described the visit as a demonstration of the Vietnamese Party, Government and people's interest in reinforcing and enhancing the comprehensive strategic cooperation and partnership between the two countries in general and Vietnamese localities and Sichuan in particular.
The Sichuan official underscored that his province attaches special importance to bolstering comprehensive and mutually beneficial cooperation with Vietnam.
He said he strongly believed that PM Dung's visit would help create new momentum for future development - not only between neighboring Vietnamese localities and Sichuan, but also between the two countries as a whole.
Following the meeting, the Vietnamese PM and the Sichuan party official witnessed the signing of economic, trade and tourism cooperation documents between relevant Vietnamese and Sichuan agencies.
They included a memorandum of understanding on trade, investment and tourism cooperation between the Vietnamese Ministry of Industry and Trade, the Vietnam Tourism Administration and Sichuan; a cooperation agreement between the Vietnam Chamber of Commerce and Industry and Sichuan's Trade Promotion Association; and a cooperation deal between the Vietnam Electricity Corporation and the Dongfang Electric Corporation.
Later on the day, PM Dung attended the Vietnam-China Economic and Trade Cooperation Forum jointly held by the China Trade Promotion Committee and the Vietnam Chamber of Commerce and Industry in Chengdu.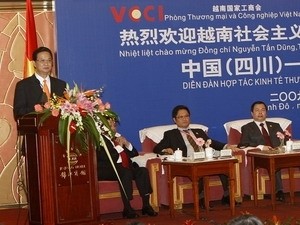 Vietnamese Prime Minister Nguyen Tan Dung (L)addresses the Vietnam-China Economic and Trade Cooperation Forum on Oct. 15 (Photo: Vietnam News Agency)
At the event, Dung reiterated that the Vietnamese Government places extreme importance on economic cooperation with Sichuan as it considers these ties a crucial component of Vietnam-China strategic cooperation and partnership.
He stressed that Vietnam is a potential and reliable investment destination for foreign investors, especially for Chinese businesspeople.
Chinese businesses will save and get a great deal when investing in Vietnam, PM Dung said, referring to the country's favorable geographical location, an infrastructure that has been constantly improving, a wide range of incentives the Government has adopted, abundant and young human resources and various markets that are growing rapidly.
Besides, Vietnam will provide a gateway for Chinese businesses to penetrate into Southeast Asian markets as well, the PM said, adding that the consolidation and enhancement of economic cooperation will pave the way for both countries and their businesses to find greater opportunities for mutual development, especially in the context of the current global economic difficulties.
At the forum, PM Dung highlighted China as Vietnam's leading economic partner, citing an average annual rise of 25 percent in the two-way trade in the 2001-08 period.
In the first eight months of this year, the two countries reaped 12.5 billion USD in two-way trade turnover and expect to yield 19-20 billion USD for the whole year. The 2008 figure was 20 billion USD.
Sichuan alone traded 332 million USD in goods with Vietnam in 2008 and it leads other Chinese localities in investment in Vietnam, with six projects totaling 46.3 million USD.