On the 100th birth anniversary of late Prime Minister Pham Hung, Prime Minister Nguyen Tan Dung visited the Mekong Delta province of Vinh Long on June 10, accompanied by Vice PM Vu Van Ninh and Vice PM Nguyen Thien Nhan.
PM Dung discussed with leaders of Vinh Long the socio-economic issues of the region and urged the Mekong Delta province to take advantage of local potential resources, while adopting a model of rapid and sustainable development.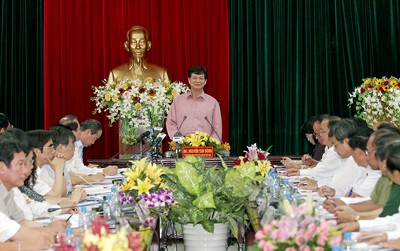 PM Dung visits the Mekong Delta province of Vinh Long ( photo Gvt website )
During the meeting with provincial leaders yesterday, PM Dung noted that the delta provinces in general and Vinh Long in particular needed to overcome difficulties, especially in socio-economic infrastructure.
He applauded the achievements of Vinh Long in maintaining the development pace at over 10 per cent. "As a result, with more effort and creativity, Vinh Long should take advantage of rice production, fruit, fishery, tourism, services and processing industries to make breakthroughs in development," he said.
PM Dung asked local officials to pay more attention to infrastructure development in transport and irrigation and to apply technology in production to enhance productivity, quality and competitiveness.
The PM also reminded Vinh Long leaders to pay more attention to the implementation of social welfare policies and the quality of education and healthcare.
He also made suggestions on measures to support farmers in product consumption and local transport and irrigation projects.
On the same day, Vinh Long Province inaugurated the Memorial Worship House of late Prime Minister Pham Hung and held a ceremony to celebrate his 100th birth anniversary.
Several cultural activities were organised to commemorate late Prime Minister Pham Hung.
The memorial quarters located in an area of over 31,000 square metres has relics, souvenirs, books and photos  of  the late Prime Minister Pham Hung on display.