Prime Minister Nguyen Tan Dung said on New Year's Eve he was confident Viet Nam would perform admirably when it takes over the chairmanship of the Association of Southeast Asian Nations (ASEAN) today.
The Government leader pledged to mobilise all available resources to successfully fulfil the task in his speech delivered yesterday, which ran as follows:
"Viet Nam will assume the ASEAN chairmanship for one year from January 1, 2010. It is also the year when Viet Nam will mark its 15th anniversary of ASEAN membership. It is a great honour but also a huge responsibility. We are well prepared and now ready to fulfil the task in the best possible way.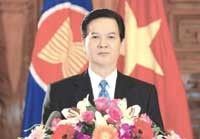 Prime Minister Nguyen Tan Dung delivers a speech the day before the country takes over the presidency of ASEAN.
After more than 40 years of development, ASEAN has so far turned itself into a dynamically growing group of 10 members in Southeast Asia that have co-operated on a large range of political, economic, cultural and social areas. The organisation has made considerable contributions to strengthening and developing peace, stability andco-operation in Southeast Asia and the Asia-Pacific. ASEAN has established trustworthy partnerships with major nations and important bodies throughout the world. In addition, it has played an important role in regional and international co-operation.
Viet Nam has made relations with ASEAN a strategic priority, as we consider it a motivation force for national construction and a back up to the country's defence. We always respect ASEAN co-operation as an important part of the nation's foreign policy of multilateralisation and diversification towards regional and global integration. Over the past 15 years, we have always taken part in and made considerable contributions to the association. In the new era, we plan to co-operate with ASEAN in line with the principle of 'action, initiative and responsibly', thus contributing to turning ASEAN into a closer and stronger alliance.
Viet Nam assumes the position of ASEAN chairman at a time when the group is entering into a new stage of development, a transitional year in the five-year road map towards an ASEAN community by 2015. The Charter and the Road map towards the ASEAN community, which have been overwhelmingly approved by ASEAN leaders, have become a vision and framework of action for ASEAN. Its overall goal is to build an ASEAN Community based on the three pillars of politics and security, economy and socio-culture to turn the ASEAN Charter into reality. For this reason, member countries overwhelmingly agree with Viet Nam on 2010 ASEAN chairmanship theme 'Looking forward to an ASEAN Community: From Vision to Action'. This will be ASEAN's policy for the year.
With this in mind, Viet Nam will focus on and give priority to the strengthening of ASEAN solidarity and alliance, effectively implementing the Charter and Road map towards an ASEAN Community, expanding and deepening co-operative relations with dialogue partners and increasing the international prestige of ASEAN. Other priorities include stronger co-operation within ASEAN and between ASEAN and dialogue partners in coping with global challenges such as economic and financial crisis, food and energy security, climate change, natural disasters and epidemics.
Apart from assuming the chairmanship of ASEAN, 2010 will also be a year of numerous major domestic and diplomatic events for Viet Nam, especially the grand celebration of the Thang Long-Ha Noi millennium anniversary. For this reason, we should take advantage of major ASEAN events in Viet Nam to promote the image of our land, people, cultural traditions and history as well as national potential. We should also promote the image of a renewed Viet Nam that has achieved dynamic growth, socio-political stability, independence, self-reliance, peace, friendship and co-operation with other countries, in addition to global integration.
The Vietnamese Government and people are determined to mobilise all necessary resources to succeed when it presides over ASEAN. I earnestly ask ministries, industries and local administrations, especially the National Committee for ASEAN-2010, to support the country when it heads ASEAN.
On behalf of the Government and people of Viet Nam, which will hold the ASEAN chairmanship, I would like to take this opportunity to convey a message of peace, solidarity, friendship and co-operation for development to leaders and peoples of ASEAN, partners and international friends. An ASEAN making great efforts to build a common community is in need of assistance and support from you all in the interest of peace, stability and development in the region and the world as a whole. I also expect strong support for Viet Nam from other ASEAN members, partners and the international community to make Viet Nam's 2010 ASEAN chairmanship a great success." PM
Dung concluded his speech with best wishes for a successful New Year to ASEAN.