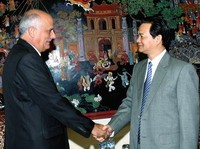 PM Nguyen Tan Dung welcomes Mr. Ramon Ripoll Diaz
Prime Minister Nguyen Tan Dung affirmed that the Vietnamese Government will do its best to further boost all-round cooperation with Cuba.
He made the affirmation when receiving in Ha Noi on Oct. 6 Standing Deputy Minister of Economic Cooperation and Foreign Investment of Cuba Ramon Ripoll Diaz, who is the head of the Cuban delegation to the 24th session of the Viet Nam-Cuba Intergovernmental Committee.
He said the two countries need to coordinate more closely to increase the efficiency of their cooperation and execute signed economic contracts so as to contribute to fulfilling their socio-economic targets.
The Vietnamese government leader held that the traditional friendship between Viet Nam and Cuba is growing fruitfully, largely owing to close collaboration of the two countries' intergovernmental committee which helped clear obstacles for bilateral cooperation.
On this occasion, PM Dung asked the Cuban guest to convey to Cuban President Fidel Castro his best regards and wish for soon recovery.
The Cuban official told his host that he was pleased to see increases in his country's imports of Vietnamese rice, computer and power-saving light bulbs.
He also spoke of Viet Nam's contribution to Cuba's successful hosting of the conference of the Non-aligned Movement and wished Viet Nam to continue supporting Cuba in the cause of building socialism.

Soirce: VNA