Prime Minister Nguyen Tan Dung yesterday told the ninth Asia-Europe meeting (ASEM) here that as global challenges became more acute, the demand for increased world co-operation and regional connectivity became more urgent.
Dung proposed that the organisation create new momentum through closer co-ordination of economic-financial policies and stronger implementation of ASEM's action plans on trade and investment.
At the same time, ASEM economic ministerial meetings should be re-activated after being suspended for nearly 10 years.
Dung said that ASEM needed to pay more attention to balancing interests between developed and developing members.
He said ASEM members should speed up experience sharing and co-operation on green economic development, especially in agricultural and rural development.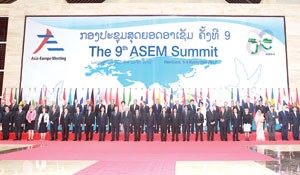 Leaders from 49 countries gather for a photo at the 9th Asia-Europe meeting in Vientiane, Laos. — VNA/VNS Photo Duc Tam
Dung said ASEM should also support reform of the International Monetary Fund and international financial institutions to create fairer, more democratic and effective institutions.
The Eurozone debt crisis and free-trade potential between Asia and Europe were high on agenda at the summit.
Prime Minister Dung was among 49 Government heads and senior deputies from two continents who gathered at the biennial forum. The theme this year was Friends for Peace, Partners for Prosperity.
Lao Prime Minister Thongsing Thammavong said the summit would provide an excellent opportunity for leaders of both world regions to discuss global and regional issues as the world economy remained in stagnation.
President of the European Council, Herman Van Rompuy, said: "Our interdependence has become greater than ever and the worldwide financial crisis and its aftermath shows it clearly."
He said the European Union was strongly committed to its responsibilities as a world actor and as a strong partner for Asia, which had become a region of strategic importance. "Economy and finance is, of course, the driver of our relations," he added.
Rompuy said this was reflected in negotiations for a free-trade agreements between Europe and Asia that were under way.
During yesterday meeting, ASEM admitted three new members: Norway, Switzerland and Bangladesh.
At a session on economic issues, Asian and European leaders agreed that the world economy continues to grow slowly with deeper public crises in the Eurozone.
They said this was why they were determined to create a new impulse for economic co-operation between the two continents.
Participants expressed their support for measures set out at the G20 Summit in Los Cabos to boost growth and job generation as well as change the growth model.
They agreed to continue contributing to reforming global economic administration and international financial institutions, especially the International Monetary Fund (IMF) and the World Bank (WB).
This would help raise the voice and role of emerging economies as well as support a multilateral financial system and the conclusion of Doha negotiations.
ASEM is a dialogue between the two most dynamic regions in the world, which together possess half the world's GDP, up to 60 per cent of global trade and about 60 per cent of the world's population.
High level meetings
Dung yesterday had talks with several senior leaders.
At a meeting with French President Francois Hollande, both sides agreed to step up bilateral projects in science and technology, education and training and energy as well as holding activities to mark the 40th anniversary of diplomatic ties next year.
In talks with Bulgarian President Rosen Plevneliev, Dung discussed ways to strengthen co-operation.
Plevneliev said he would visit Viet Nam early next year on his first official visit to Asia.
The Vietnamese PM and Indonesian President Susilo Bambang Yudhoyono pledged to maintain exchanges of high-ranking leaders and step up discussions on a strategic partnership agreement.
Italy's Mario Monti conveyed an invitation to the General Secretary of the Communist Party of Viet Nam, Nguyen Phu Trong, to pay a State visit to Italy.
At a reception for his Luxembourg counterpart Jean-Claude Juncker, Dung said that Viet Nam, as a co-ordinator in ASEAN-EU relations, would promote ties between ASEAN and the EU.
Slovenian PM Janez Jansa told Dung that Slovenia wanted to boost ties in economics, trade and investment. The two sides agreed to promote the exchange of high-ranking delegations.
In a meeting with the British Foreign Minister William Hague, Dung praised the two countries' ministries and departments for actively implementing the 2012 Action Plan.
Dung also congratulated Bangladesh, Norway and Switzerland on becoming new ASEM members