Prime Minister Nguyen Tan Dung expressed support for cooperative programmes in the field of agriculture conducted by the US' Dupont Corporation, during his May 20 reception for the company's Chair of the Board of Directors and CEO Ellen Kullman.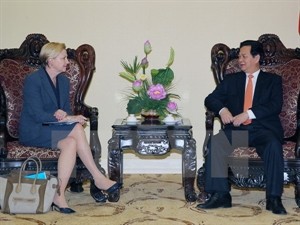 At the meeting (Source: VNA)
The PM hailed the outcomes of joint work between the Ministry and Agriculture and Rural Development and Dupont over the past nearly 20 years, including producing high-yield varieties and supplying eco-friendly plant protection products.
He also spoke highly of Dupont's help to launch large-scale model paddy fields in the central province of Thanh Hoa and train agricultural experts in Can Tho University.
He informed the guest that Vietnam is restructuring its farming sector by embracing technological advances, especially using bio-technologies to increase output, adding that the government encourages locals and businesses, including foreign investors, to invest in developing a sustainable and eco-friendly agriculture in Vietnam.
Kullman said Dupont is ready to transfer the latest technologies to Vietnam, including waste-to-biofuel technology, and will continue working with Vietnamese partners in farming and food technology.
Dupont is among the 500 largest companies in the US with a combined revenue of 34.7 billion USD in 2014. It has 150 research-development facilities globally with 38,000 patented inventions and 10,000 scientists and engineers.-VNA