Prime Minister Nguyen Xuan Phuc visited the National Convention Centre in Hanoi on October 23 to scrutinise preparations for three regional summits that will convene on October 24.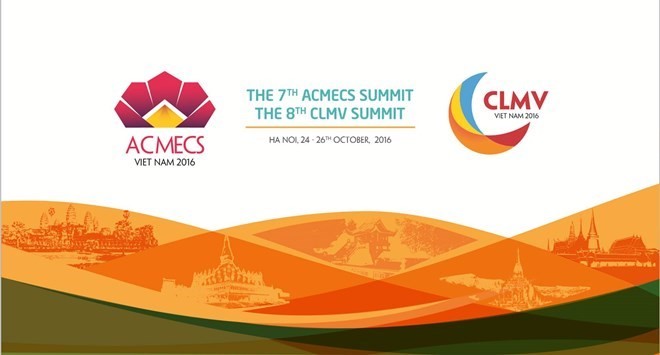 Poster of the ACMECS 7 and CLMV 8 (Photo: the organising board)
Lasting until October 26, the events consist of the 7 th Ayeyawady-Chao Phraya-Mekong Economic Cooperation Strategy Summit (ACMECS 7), the 8th Cambodia-Laos-Myanmar-Vietnam Summit (CLMV 8) and the World Economic Forum on Mekong (WEF-Mekong).
At the centre, PM Phuc heard reports from organisers on preparations concerning reception, security, health care and food safety.
He said that as these are major diplomatic events of Vietnam this year, relevant forces need to urgently complete all preparations with a determination to ensure the absolute safety for the events.
The ultimate goal is to ensure the success of the meetings and make international delegates impressed by the land and people of Vietnam, he noted.
The events will see the attendance of leaders of Vietnam, Cambodia, Laos, Myanmar and Thailand, as well as representatives from international organisations, WEF's member businesses and big enterprises in the Mekong river-shared countries.
PM Phuc will chair ACMECS 7 and CLMV 8.