At the National Assembly's question-and-answer session yesterday, Prime Minister Nguyen Tan Dung delivered a report on the government's activities and answered queries raised by deputies about rice export, pollution, and other issues.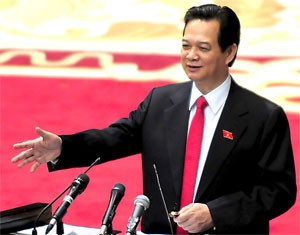 Prime Minister Nguyen Tan Dung speaks at the NA session yesterday (Photo: SGGP)

Asked about the controversial ban on rice export, PM Dung said, "The Government's policy has three aims: helping farmers sell their rice at reasonable prices; ensuring the country's food security; and keeping rice prices at reasonable levels."
 
He emphasized that the Government is very serious about developing rice production, buying rice from farmers, and helping farmers improve their incomes.
 
In March 2008 the global prices of rice increased sharply and it was forecast that the world might face a serious shortage of food. It sent rice prices surging in Vietnam as well. Heavy buying by traders for export worsened the situation, pushing prices even higher.
Faced with this situation, the PM ordered a temporary halt on new rice export contracts to ensure food security and contribute to restraining inflation.
 
"If we had signed new contracts and had to deliver rice in April, May and June, we would have been able to sell at high prices, but rice traders would have had to buy rice earmarked for domestic use. This would have pushed rice prices, which were already high, further up, worsening inflation," Dung told legislators yesterday.
 
In June, when the rice crop was forecast to be a good one, the Government lifted the ban and also urged traders to buy rice from farmers, he said.
Exporters have contracts on hand for more than 4.5 million tons and are negotiating deals for a further 1.5 million tons for delivery in December, he said.
Strictly dealing with polluters 
Replying to queries about environmental protection, the PM said the government would not pursue short-term benefit to allow projects detrimental to the environment.
"Recently, the government rejected a US$4-5 billion steel project on environmental protection grounds," he said.
The government would announce measures to deal with polluting companies, he said. "Oversight will be bolstered and violation of environmental regulations will be stringently punished, including revocation of license and criminal prosecution."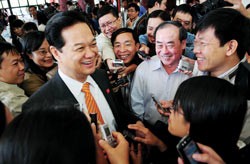 PM Dung meets with reporters on the sideline of the NA session (Photo: SGGP)
While violators would be sternly dealt with, the action against them also needs to serve the interest of society, he said. For instance, while Vedan Vietnam has to be penalized for its environmental violations, it also needs to remain in operation to ensure jobs for more than 3,000 workers, he explained.
The government has ordered a review to decide the responsibility of each agency in the event of violation of environmental regulations, the PM said.
Solutions for 2009

In his report at the session, PM Dung listed some of the measures the Government plans in 2009 to boost exports, reduce the trade deficit, and maintain reasonable foreign currency reserves.
It would continue to reduce lending rates and make the exchange rate regime more flexible, he said.
Projects that have proved unviable or impracticable would be scrapped and investment would be channeled into efficient projects, he said.
The Government would also adopt a market price mechanism and abolish subsidies to exactly assess the efficiency of each business as well as the economy, he said. 
Investment would rise in major manufacturing projects, power works, traffic infrastructure, agriculture, education and training, science and technology, and some other key areas, he said.
It would regulate imports more closely, encourage the use of locally made commodities, and restrict the trade deficit, he said.