Viet Nam hoped the Dutch Government would offer more support to help the country cope with climate change and build sea defences, Prime Minister Nguyen Tan Dung told his Dutch counterpart, Mark Rutte, in The Hague yesterday.
Five prioritised aspects that the two sides put on the table were climate change, water management,oil and gas, sea ports and logistics, and agriculture.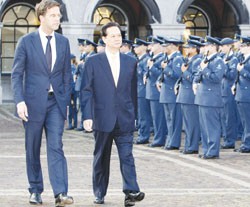 Prime Minister Nguyen Tan Dung (R) and Dutch counterpart Mark Rutte review the guard of honour in The Hague yesterday, Sep 28th.
They particularly stressed the need to push the implementation of the Strategic Partnership Agreement on climate change adaptation and water management.
Dung told his host that Viet Nam always attached importance to enhancing friendly relations and multi-faceted co-operation with the Netherlands, one of the country's most important partners within the EU.
He also said that Viet Nam would continue its efforts in renewal and integration, and resolve to overcome existing hardships to realise its goal of becoming an industrialised nation by 2020.
Rutte said the Dutch also wanted to expands ties with Viet Nam, which he described as an emerging market with lots of potential.
In terms of investment and commerce, the Netherlands is Viet Nam's largest European investor and one of the country's leading trade partners among European nations.
Currently, the Netherlands has 153 projects operating in Viet Nam with a total investment of US$5.6 billion.
Two-way trade revenue reached nearly $2 billion last year, and over $1.76 billion in the first eight months of this year.
The two sides are joining hands to carry out programmes as part of the Strategic Partnership Agreement, but Viet Nam hoped to receive more assistance from the Netherlands in specific areas including measures to design and manage sea defences.
The leaders also saw co-operation potential in agriculture, petroleum, sea ports and ship building.
Dung invited Rutte to visit Viet Nam and the host accepted.
Also yesterday, the two prime ministers witnessed the signing of a Protocol to revise the Viet Nam-Netherlands Air Transport Agreement and a memorandum of understanding on meteorological services between the two environment ministries.
Both also attended a round-table meeting with CEOs from some leading groups of the two countries where they talked more on opportunities about economic, trade and investment ties.
Dung said he was happy to see bilateral trade turnover rising by about 20 per cent every year, helping to make the Netherlands one of Viet Nam's major export markets in Europe.
The two PMs affirmed their government's strong commitments to facilitating business between the two countries.