Quang Ninh should develop deep-water ports and industries such as coal exploration, shipbuilding, tourism, cement and power, Prime Minister Nguyen Tan Dung said during his visit to the northeastern province on Sunday.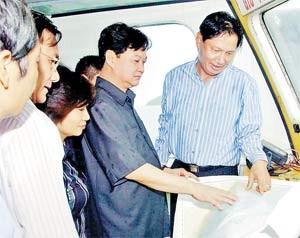 PM Nguyen Tan Dung (2nd, R) tours the construction site on Hon Mieu Island. (Photo: SGGP)
He was touring the construction site for a deep-water port and an industrial complex on Hon Mieu Island, Hai Ha District of the province.
The PM stressed the province's importance to national economic development, particularly in the northern region, and its potential and advantages for the development of these industries.
The Government leader praised the joint proposal for the deep-water port and the industrial complex by the Coal and Mineral Industry Group, the Shipbuilding Industry Group and the Machinery Assembly Corporation.
The PM urged concerned companies to continue their survey to prepare for the project, which includes a system of special-purpose ports, container ports, shipyards, steel rolling factories, thermal power plants and a petrochemical refinery, which would facilitate the development of an open economic area and an economic corridor in the northeastern region.
Mr. Dung allowed business groups and construction corporations to work out an overall zoning map. The first thing to do is that they must set up partnerships and companies to engage consultants to do the zoning map, which is required to match the building of deep-water ports with the development of the region, the Mong Cai Open Economic Zone and the Viet Nam-China Economic Corridor.
The island is near the two border gates of Mong Cai and Bac Phong Sinh, where trade with neighbor China is expanding. The waters are over 20 meters deep, enough for vessels of 150,000-200,000 tons. A long mountain there ensures calm waters and is convenient for building deep-water ports.
Also on Sunday, the Prime Minister inspected work at the construction site of the enlarged Uong Bi thermal-power project in Uong Bi Town, Quang Ninh Province.

This is the first major project in which design, consultancy, manufacturing, construction and operation were all done by Vietnamese. This marks a great success by Vietnamese engineers and workers.