The Vietnamese government is gearing up to tackle its Plan of Action in a concerted bid to fulfill its set socio-economic targets for the year.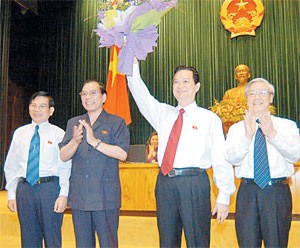 PM Nguyen Tan Dung (2nd, R) is re-elected by the National Assembly deputies on July 25

Prime Minister Nguyen Tan Dung made the remark in an exclusive interview with the Viet Nam News Agency after being re-elected to his post in a landslide vote that saw 96.96 percent of National Assembly (NA) deputies call on the PM to embark on a new term, in Ha Noi on July 25.

The Government, PM Dung said, will strive to achieve an economic growth rate of at least 8.5 percent that is accompanied with the improved competitiveness of the economy and social progress and equality.

Speeding up administrative and public finance management reforms will be another major task of the Government, he said, adding that priority will be given to administrative procedure reforms.

The government leader also fired a salvo at corrupt officials by vowing to uncover instances of corruption and nepotism as part of government efforts to weed out the problem from the country's civil sector.

Comrade Nguyen Tan Dung, born in 1949, was elected as Prime Minister at the 11th National Assembly's mid-term (June 2006) and became the youngest person to head the cabinet In Viet Nam  over the last two decades.