Prime Minister Nguyen Tan Dung granted authorities of Hanoi and Ho Chi Minh City more power in decentralisation efforts to help the two cities complete their socio-economic development plans.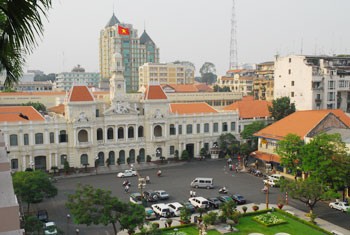 Ho Chi Minh City is the economic hub in the country.
After a recent meeting with leaders of Ho Chi Minh City , the PM concluded that the city played an important role in the country's socio-economic development, accounting for 22 percent of GDP, one-third of the State's budget and 40 percent of the country's export turnover.
He wanted Ho Chi Minh City to balance necessary goods for consumption and production including electric, petroleum, iron and foodstuff to avoid price hikes.
The city was asked to strengthen controls on anti-smuggling and trade frauds, and check-up on the progress of public investment projects, ensuring unnecessary and ineffective projects were postponed or delayed.
He emphasised that priority should be given to social welfare projects, especially for needy and underprivileged people.
The Prime Minister also gave the city concrete guidance on subterraneous building projects, readjusting estimates for projects funded by ODA, and managing activities of credit organisations, investment funds, securities and real estate companies.
After the meeting with Hanoi 's leaders, the Prime Minister asked provincial authorities to effectively implement measures to control inflation, increase production and exports, stabilise prices on the market and prevent speculation.
The municipal authorities were instructed to co-ordinate with the Ministry of Construction to plan city expansion with traffic infrastructure in mind.
Dung agreed with the city's plan to celebrate the 1000 th year of Thang Long – Hanoi and assigned the Ministry of Construction to co-ordinate with the municipal People's Committee and relevant sectors to develop a project to renovate the ancient citadel area.