Prime Minister Nguyen Tan Dung has spoken highly of contributions made by John Hendra, UN Resident Coordinator in Vietnam, to promoting and developing cooperative ties between Vietnam and the United Nations.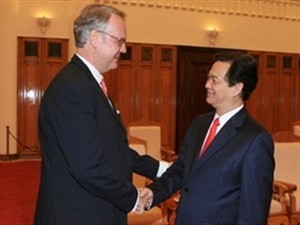 Prime Minister Nguyen Tan Dung shakes UN Resident Coordinator in Vietnam John Hendra's hand (Photo: VietnamPlus)
The cooperation is developing well, especially the smooth operation of the pilot model of One UN in Vietnam, PM Dung told John Hendra in Hanoi on April 26, during the UN Resident Coordinator's farewell visit at the end of his term of office in Vietnam .
The PM said he wished the UN will continue more cooperation and assistance to Vietnam in implementing socio-economic development goals, particularly poverty reduction, gender equality and social welfare.
Vietnam is taking drastic measures to curb inflation, he said, adding that the country has paid special attention to ensuring social security, taking care of the people's living conditions, especially the poor, ethnic minority people and those living in remote areas.
He said Vietnam wants to get cooperation and support from international agencies and communities including UN agencies, to successfully implement the goal of rapid, sustainable development.
UN Resident Coordinator Hendra expressed his impression of Vietnam's achievements, saying that the country has obtained successes in socio-economic development, including achievements in poverty reduction, social security and international integration.
The country successfully implemented almost all UN Millennium Development Goals.
However, he noted, like other countries around the world, Vietnam is facing high inflation and global economic downturn. So the country needs to keep an eye on assisting the poor and those who are disadvantaged in society, synchronously working towards goals of economic development and human development, environmental protection, gender equality and social fairness.
The UN will stand shoulder to shoulder with Vietnam in implementing socio-economic development as well as the Millennium Development Goals, the outgoing UN Resident Coordinator affirmed.